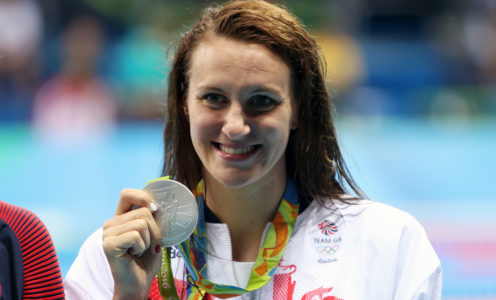 University of Bath-based swimmer Jazz Carlin became Team GB's first double medallist of the Rio 2016 Olympic Games when she won 800m freestyle silver in the early hours of Saturday morning.
The 25-year-old, full of confidence after claiming 400m freestyle silver on Monday, enjoyed a race-long battle with Hungary's reigning European champion Boglarka Kapas before getting the edge by two-tenths of a second in 8:16.17.
Gold went to outstanding American Katie Ledecky in a world-record time of 8:04.79 – she also beat Carlin to the 400m title in similar fashion.
After missing out on London 2012 through illness, Carlin – coached by Dave McNulty and Graeme Antwhistle at the British Swimming National Centre Bath – was thrilled with her achievements in Rio this week.
"If someone had told me four years ago that I would be stood on a podium twice with two silver medals I would have said there is no way," she said.
"It has taken a lot of time to get here and there have been times when I haven't believed in myself but my family and all of the support staff around me have believed in me.
"I feel very lucky to have gotten on the podium again. Since I was a young girl it has been a dream to go to an Olympics and to finally be here is a dream come true but to be on the podium twice with two silver medals definitely hasn't sunk in, it feels a bit surreal."
University of Bath-based swimmers have now won three silver medals at Rio 2016, with Siobhan-Marie O'Connor also getting on the podium in the 200m individual medley on Tuesday.
And there could be more medals on the final day of the Olympic swimming meet, with backstroke specialist Chris Walker-Hebborn part of a GB men's 4x100m medley relay team that set the fastest time of 3:30.47 in qualifying on Friday.
That final is taking place at 3.04am BST, just after the women's 4x100m medley relay featuring O'Connor – Britain were eighth-fastest qualifiers in Friday's heats.
Picture by: David Davies / PA Wire/Press Association Images