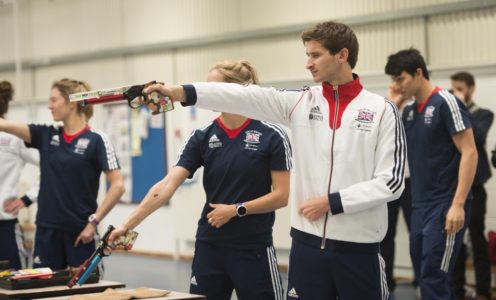 Pentathlon GB quartet Kate French, Samantha Murray, Joe Choong and Jamie Cooke are the final University of Bath-based athletes to begin their Rio Olympic Games campaigns on Thursday.
London 2012 silver medallist Murray and French get underway first, competing in the fencing event at the Youth Arena.
In the same location the Pentathlon GB men Choong and world number one Cooke then begin their campaigns from 18.30 onwards.
On the athletics track Eilidh Doyle contests her first Olympic final at 2.15am BST.
Who to watch today
Thursday 18 August 2016
Sport
Time*
Stage
Athlete(s)
Event
Venue
Result
Modern Pentathlon
14.00-17.00
Ranking
Kate French, Samantha Murray
Fencing
 Youth Arena

Kate French: 19th, 202 points

Samantha Murray: 31st, 184 points

Modern Pentathlon
18.30-21.30
Ranking
Joe Choong, Jamie Cooke
Fencing
 Youth Arena

Joe Choong: 8th, 222 points

Jamie Cooke: 28th, 184 points

Athletics
02.15
Final
Eilidh Doyle
400m hurdles
Olympic Stadium – Engenhão

 8th, 54.61
More information