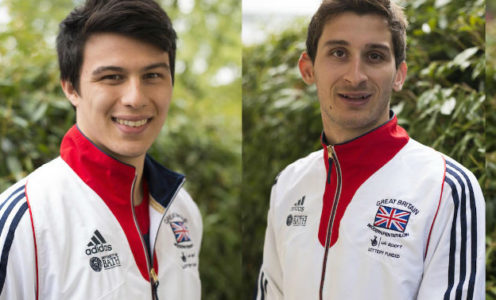 Pentathlon GB's Jamie Cooke and Joe Choong are in medal contention as the modern pentathlon events conclude on day 15 of the Rio Olympics.
University of Bath Mathematics student Choong is ranked 8th after Thursday's fencing event, and he joins Cooke in heat six of the swimming event at the Deodoro Aquatics Centre.
World number one Cooke will be looking to make up ground as he starts the day in 28th position.
The swimming event is followed by show jumping this evening and later tonight the combined run/shoot event which will determine final positions.
The final University of Bath-athletes in Rio 2016 action will be Emily Diamond and Eilidh Doyle – both are in the GB squad for the women's 4x400m final at 2am BST.
Who to watch today
Saturday 20 August 2016
Sport
Time*
Stage
Athlete(s)
Event
Venue
Result
Modern Pentathlon
16.25
Final
Joe Choong, Jamie Cooke
Men's swimming
Deodoro Aquatics Centre

 Jamie Cooke:

1st, 1:55.60 (OR)

Joe Choong:

3rd, 1:58.50

Modern Pentathlon
19.30-20.40
Final
Joe Choong, Jamie Cooke
Men's riding show jumping
Deodoro Stadium

 Jamie Cooke:

12 penalty points

Joe Choong:

7 penalty points

Modern Pentathlon
22.00-22.20
Final
Joe Choong, Jamie Cooke
Men's combined running/shooting
 Deodoro Stadium

 Jamie Cooke: 14th, 1436 pts

Joe Choong: 10th, 1451 pts

Athletics
02.00
Final
Emily Diamond, Eilidh Doyle
4x400m
Olympic Stadium – Engenhão
3rd, 3:25.88
As it happened
16.30: Olympic record! GB's Jamie Cooke sets a new Olympic record in the swimming event, setting a time of 1:55.60 to secure 354 points and make up on ground lost in the fencing event. Teammate Joe Choong finishes third and secures 345 points in a fantastic event for the British modern pentathletes.
20.45: Two exceptional rides from Pentathlon GB pairing Joe Choong and Jamie Cooke rank them among the highest point scorers in the show jumping event. Cooke moves to 16th overall whilst Choong moves up from third overall to second position heading into the final event – just nine seconds behind leader Aleksander Lesun.
22.16: Not to be for Joe Choong as he struggles in the run-shoot and crosses the line in ninth place but it cannot detract from an outstanding day for the University of Bath student who will have learnt so much from his Olympic debut. "Everything went really well except for the shooting," he said. Jamie Cooke can also be proud of his efforts today, crossing the line in 14th after starting the day in 28th. Both have plenty of positives to build on as they look ahead to Tokyo 2020.
More information