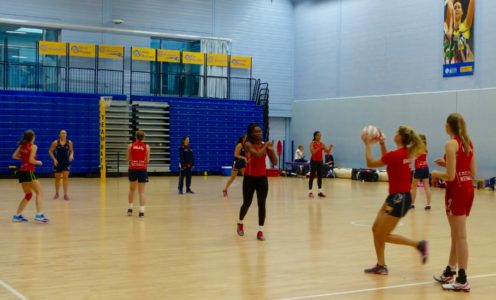 England Netball U21s will get their Netball Europe competition under way on Friday evening after two days of top-class preparation at the University of Bath Sports Training Village.
The squad spent Wednesday and Thursday having training drills in the STV sports hall and working out in the Team Bath Gym. They also faced Team Bath Netball in a practice match as they warmed up for this weekend's competition against the other Home Nations.
The sessions were overseen by England U21 Head Coach Emily Perry and Assistant Coach Denise Ellis – both are also on the coaching team at Team Bath.
England will play Northern Ireland at 8pm on Friday, Scotland at 2pm on Saturday and Wales at 12pm on Sunday. Players will be looking to secure their place in a reduced U21 squad, which will be announced on Monday.
The Netball Europe competition, taking place in Cardiff, is the latest important step on the road to the 2017 Netball World Youth Cup in Botswana.
Former Team Bath netballer Summer Artman is in the England U21 squad for this weekend along with Amy Carter, Amy Clinton, Iona Darroch, Rhea Dixon, George Fisher, Emily Hollingworth, Gabriella Marshall, Vicki Oyesola, Razia Quashie, Chiara Semple and Francesca Williams.
Listen to BBC Radio Bristol Saturday Sport from 1-2pm tomorrow to hear an interview with Emily Perry on her new role as England U21 Head Coach.