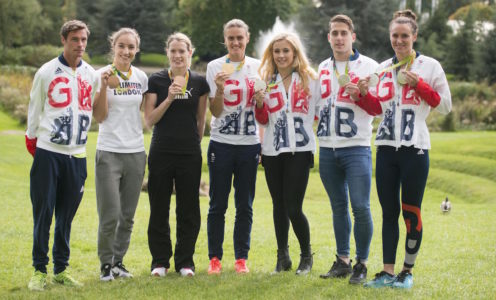 Rio 2016 Olympic and Paralympic medalists received a heroes' welcome on Wednesday when they celebrated their stunning summer of sporting success with students and staff at the University of Bath.
Six Team GB and ParalympicsGB athletes who train at the University's world-class Sports Training Village – athletes Paul Blake, Emily Diamond and Eilidh Doyle plus swimmers Jazz Carlin, Siobhan-Marie O'Connor and Chris Walker-Hebborn – were joined by graduate Heather Stanning, the double rowing Olympic champion, at a special ceremony on campus to honour their achievements in Brazil.
Blake, coached by Rob Ellchuk, stormed to T36 400m success in Rio to secure Britain's 50th gold of the Paralympic Games – a fitting achievement in the University's 50th-anniversary year.
"The University of Bath has supported my career for the past seven years now and I am very lucky to have access to all the world-class facilities here," said Blake, who also won T36 800m silver to add to the two medals he won at London 2012.
"I really enjoyed Rio as a Games and I'm really happy to have completed the full set of Paralympic medals."
Sports Technology graduate Stanning and her partner in Britain's imperious women's pair, Helen Glover, both learnt to row at the University with the GB Rowing Team Start programme.
Having become the first British women ever to win a rowing title at London 2012, they made more history this summer by defending their crown in emphatic style.
"It's 12 years ago that I started rowing at the University having never set foot in a boat before," said Stanning, who was inducted into the University of Bath Hall of Fame for Sport earlier this year.
"By the time I left here I was an U23 World Champion and that was all thanks to the Start programme, it all escalated from there.
"Helen and I went to Rio undefeated in five years and as defending champions so there was way more pressure on us than London. We were there to do a job, so the gold medal means an awful lot more because of all the hard work we had to do for it."
The British Swimming National Centre Bath enjoyed an outstanding summer, contributing to four of the six medals won in the pool – Britain's best Olympic haul in swimming since 1908.
Carlin – coached by Dave McNulty and Graeme Antwhistle – won two of those medals, claiming silver in both the 400m and 800m freestyle.
"To execute both my race plans and come away with two silvers was amazing," she said.
"I loved being part of Team GB and making new friendships. You could really feel that Olympic atmosphere, it was all really special."
O'Connor, who has trained in the Olympic-sized pool at the University of Bath since she was nine years old, also won silver with a stunning performance in the 200m individual medley.
"We did so well at the Bath National Centre and as the whole swimming squad, it was great to be part of it," she said.
"I've been swimming here at the University for the past ten years and to be part of something like this is very special. The facilities are world class and the results across all the different sports show that."
Backstroke specialist Walker-Hebborn, who has been with the British Swimming programme in Bath since it was formed in 2008, was part of the men's 4x100m medley relay team that won silver in Rio.
"The success of the National Centre is testament to the work of Dave and Graeme," he said.
"I started here when there were just four or five swimmers in the group. Look where we are now – it is just getting better and better and better."
Athletes Doyle and Diamond, coached by Malcolm Arnold and Jared Deacon respectively, both train at the University and formed half of the women's 4x400m relay quartet that won Olympic bronze.
"Rio already seems a long time ago for me, so it's nice to come back to events like this and be able to relive it and reflect on it," said Doyle.
Diamond added: "Training every day with Eilidh at the University means we have that connection, friendship and bond that we can take into major competitions, it really helps."
The ceremony, attended by students and staff, took place in University Hall and was hosted by University of Bath Director of Sport Stephen Baddeley, Student Union Sports Officer Will Galloway and Disability Sport Coordinator Rosie Lawrence.
"It gives me great pleasure to welcome our Rio 2016 medallists back to the University and for us all to have the chance to congratulate them on their success," said Baddeley.
"The University is one of only six UK Sport accredited elite training centres in the country and we have 13 partnerships with national sporting organisations. Thanks to those partnerships, we have more than 250 international-level athletes who use the University of Bath as their main training base.
"Twenty of those athletes qualified for the Rio Games, as did eight University graduates, and they won 12 medals between them which is not a bad strike rate."
Of the 20 athletes based at the Sports Training Village who represented their country in Rio, 15 were Olympians and five Paralympians. They competed across eight different sports – athletics, judo, modern pentathlon, para-triathlon, swimming, tennis, weightlifting and wheelchair fencing.
The ceremony also acknowledged the achievements of University-based Paralympians Piers Gilliver and Nicole Walters, who won wheelchair fencing silver and para-triathlon bronze respectively but were unable to attend on the day.
Natural Sciences graduate Alexandra Rickham, who won SKUD 18 two-person keelboat bronze with partner Niki Birrell for the second successive Paralympic Games, was also honoured in her absence.
The ceremony was followed by a civic reception at The Guildhall, hosted by Bath & North East Somerset Council and attended by the medallists and other University-based athletes who competed at Rio 2016.
Attention is already turning to the 2018 Winter Games in Pyeongchang, South Korea, where athletes with the University-based British Bobsleigh & Skeleton Association will be among those hoping to bring more medals back to the Sports Training Village.
Pictured top are Rio 2016 medalists (from left) Paul Blake, Emily Diamond, Eilidh Doyle, Heather Stanning, Siobhan-Marie O'Connor, Chris Walker-Hebborn and Jazz Carlin at the University of Bath. PICTURES: Clare Green