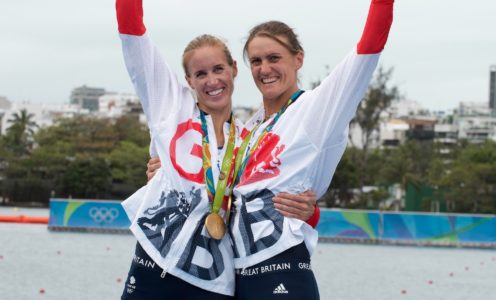 The pioneering talent ID and development scheme that produced double Olympic rowing champions Helen Glover and Heather Stanning will be staging trials at the University of Bath next week.
People who think they have it what it takes to become an Olympic rower are being invited to attend testing with the GB Rowing Team Start programme, taking place in the Sports Training Village from 5-8pm on Tuesday, October 25.
It's been another hugely successful year for members of the Start programme past and present. Glover and Stanning, unbeaten for five years in the women's pair, added Rio 2016 gold to their historic London 2012 title and Vicky Thornley won a stunning silver medal for Team GB in the women's double scull with Katherine Grainger.
Sport & Exercise Science graduate Sam Courty claimed bronze in the women's pair at the FISU World University Rowing Championships and Jens Hullah made his GB Rowing Team debut in the annual U16 junior match against France.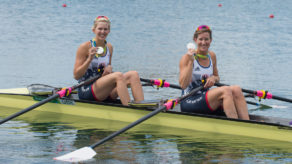 Former rugby player Hullah is the youngest current member of the Start programme, run in conjunction with Minerva Bath Rowing Club, and earned his place after going along to testing at the University two years ago.
Stanning – who, along with her Olympic titles, is a double World and European Champion ­– says the time she spent on the Start programme was crucial to her development.
"It was here that my Olympic dream started," said Stanning, a University of Bath Sports Technology graduate. "I couldn't have done it on my own – Helen has obviously played a huge part in my career but the other Start coaches and athletes I trained with here helped get me to where I am."
To take part in the talent ID session, athletes need to be aged between 14 and 22. Men must be at least 1.88m tall and women 1.78m but no previous experience of rowing is necessary. Participants will face endurance and strength tests to see if they have what it takes to progress.
Anyone who would like to take part in the GB Rowing Team Start Programme trials should contact Talent Development Coach Dan Harris at dan.harris@gbrowingteam.org.uk.
Thank you to Peter Spurrier/Intersport Images for the picture of Helen Glover and Heather Stanning with their Rio 2016 gold medal
Just one of the reasons we are doing so well at the Olympics – superb talent ID and fast tracking. Good luck to the 2016 intake! #rowing https://t.co/0DrEQ4fawC

— Matthew Pinsent (@matthewcpinsent) October 17, 2016