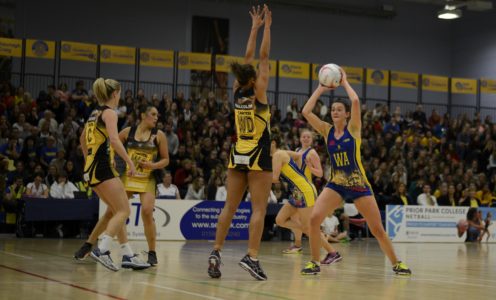 Excitement is building for Team Bath Netball players and fans ahead of what promises to be the biggest and most competitive Vitality Netball Superleague season ever after the 2017 fixtures were released today.
Ten franchises will compete in the expanded league this season and all will be in action at the Genting Arena in Birmingham on February 25 as Super Saturday returns after its successful debut earlier this year.
The Sitec-sponsored Blue and Gold – who will once more be led by big international names Eboni Beckford-Chambers, Sam Cook, Chelsea Lewis, Mia Ritchie and Rachel Shaw – will again play in the primetime evening fixture, this time against fellow former Superleague champions Hertfordshire Mavericks.
That match will come a week after Team Bath get their 2017 campaign up and running with a trip to Cardiff to face Celtic Dragons.
The first of a bumper nine home fixtures at the University of Bath Sports Training Village is against Loughborough Lightning on March 6 before the opening month concludes with a visit to the Worcester Arena to face new franchise Severn Stars, whose Director of Netball is Team Bath legend Pamela Cookey.
Scottish Sirens and Wasps, based in Glasgow and Coventry respectively, have also joined the Superleague this year – Team Bath are away to Wasps in their final match of the regular season.
CLICK HERE TO SEE TEAM BATH NETBALL'S 2017 SUPERLEAGUE FIXTURE LIST IN FULL
Team Bath, who finished a promising third overall in the 2016 Superleague, will warm up for the new campaign by hosting a tri-tournament against Loughborough and Wasps in January.
They will reach out into the community through coaching sessions funded by Sitec and schools' workshops supported by Mogers Drewett as the region's businesses follow in the footsteps of recent sponsor Carter Jonas, who step down after five years backing one of the South West's top teams.
On court the ambition remains high, with Director of Netball Jess Thirlby saying: "Our ambition to win has not faltered and we will be throwing everything at this year's campaign and hope to go one better by getting into the final we narrowly missed last year.
"It's been a busy summer and we feel very buoyant about the group that we have bought together for the 2017 season. Interest in netball is greater than ever but we have always had a tremendous supporter base at Team Bath and we are determined to give the fans plenty to cheer in the months ahead."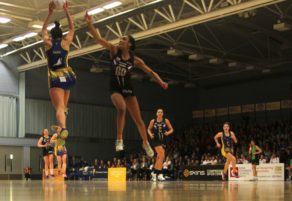 Team Bath have named a vibrant mix of returning favourites, emerging young talent and world-class internationals in their squad for the new season.
Layla Guscoth and Vangelee Williams will bring their vast international experience, with England and Jamaica respectively, to what is already a formidable-looking defensive unit including Beckford-Chambers and Cook.
Shantal Slater, a team-mate of Williams with Jamaica, will be the second overseas player in the 2017 squad, subject to a visa. The 24-year-old is considered to be one of the most exciting young shooters in world netball and has extensive international experience with the Sunshine Girls. She is currently representing her country at the 2016 Fast5 Netball World Series in Melbourne, Australia.
Fan favourites Lewis, Shaw and Ritchie return to the Blue and Gold and are joined by England U21 stars Imogen Allison, Paige Reed and Jess Shaw, along with fellow exciting attacking talent Laura Rudland.
Both Allison and Reed – who captained Team Bath's Netball Performance League (NPL) development squad last season – are students at the University of Bath, while Sports Performance graduate Rudland has come through the prolific Team Bath talent development system.
Eight additional players have been named as training partners, who will work with and support the Superleague squad during 2017. Former captain Asha Francis, Amanda Varey, Jazz Scott and Nic Humphrys have all worn the Blue and Gold at the highest level, while Caralea Moseley has represented Celtic Dragons and Wales. Promising young NPL players Abi Robson, Ella Powell-Davies and Shona O'Dwyer complete the group.
"It was always of paramount importance for us to retain and work with as many of last year's squad as possible," said Thirlby. "We feel this will be a huge strength as they will bring what we learnt last season and ignite the passion in the exciting new players around them.
"Continuity is so important amongst staff and players as it helps us to hit the ground running, which has been apparent in the first block of pre-season training.
"The freshness that the new recruits have brought is fantastic and we feel we've not only welcomed high-quality performers but also many with great leadership skills too. We can't wait to get started."
Season tickets covering all nine home matches and tickets for individual games will be on sale at www.teambath.com/events/ticketline or by calling Ticketline on 0844 888 4412.
Click here for more information about Team Bath Netball and the 2017 Superleague season, including player profiles.
Team Bath Netball are sponsored by Sitec, Mogers Drewett are their Education Partners, Surridge are the kit supplier and Skins provide the team with compression wear.