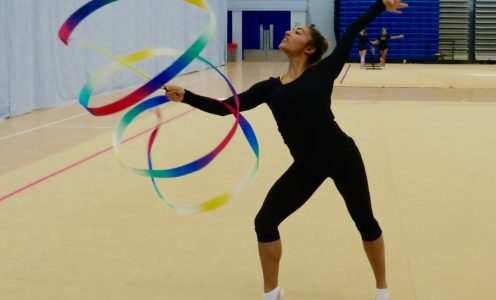 Eight members of the England national rhythmic gymnastics squad followed in the footsteps of history-making Olympians when they enjoyed a week-long training camp at the University of Bath.
The talented group honed their hoop, ball, clubs, ribbon and ballet skills during twice-daily sessions in the Sports Training Village (STV) as they began preparing in earnest towards the Gold Coast 2018 Commonwealth Games in Australia.
They also had access to physiotherapy and sports psychology support from the Team Bath Physio & Sport Science Centre, as well as nutritional advice.
Overseeing the camp was Sarah Moon, who guided Team GB's first-ever squad to qualify for an Olympic Games during London 2012 and was Team England Coach at the Delhi 2010 Commonwealth Games when England won a bronze team medal. She was asked to coach at this camp to start to shape the team, and bring all the gymnasts and coaches together towards 2018.
Moon said: "The preparations for the Commonwealth Games are starting to ramp up now and it was good for us to get together, talk about the long-term aims for the group and set targets in the build-up to 2018.
"The girls already have a lot of good technical preparation from their clubs in terms of routines and that side of things, so we used the advantage of being at the University to work on the other elements that come into play like physio, psychology and nutrition.
"It's a well-rounded, holistic approach in order to get the girls in the best physical and psychological shape they can be and give them all a really good chance to fight for a place in the final Commonwealth team.
"This is probably one of the strongest England teams we have had as a lot of the girls also represent Great Britain. The majority of the squad are very young as well, so they'll be turning senior just in time for 2018. It's a very exciting time for Team England Rhythmic Gymnastics.
"The girls have seen what happened at London 2012 and the Glasgow 2014 Commonwealth Games, been inspired by that and know they are realistic aims. We certainly have the potential in this group to win medals at the next Commonwealth Games."
The London 2012 squad trained full-time at the University of Bath and one of the Olympians – Lynne Hutchison, who won team bronze for England at Delhi 2010 – was back at the STV to assist Moon with coaching the new generation of gymnasts.
"I've really enjoyed working with these girls, they work super hard and they have so much potential as a team and individuals," said Hutchison.
"These are eight very talented girls who all have their own strengths. Most nations at a Commonwealth Games will have one or two really good girls but we have a selection of eight from which to make a team of three. Whoever is selected, it won't be a clearly-ranked one-two-three team, they will all be strong."
Attending the camp were Hannah Martin (i-Star Academy, Brighton); Christianna Vitanova, Alida Bogdanova and Amaranta Chavez (Elite Gymnastics Academy, London); Eve Baker-Roberts and Emily Woodruff (City of Canterbury); and Asha Hamudir and Mimi-Isabella Cesar (City of Birmingham).
Ballet teacher Suzanne Haslam oversaw the gymnasts' technical physical preparation training during the week, while coaches from the girls' home clubs also provided Moon with support during sessions.