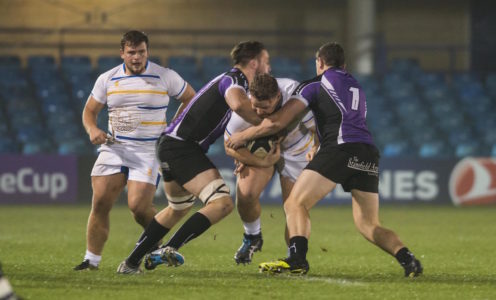 Try-scoring prop Alex Wood believes the University of Bath men's 1st XV have still to show their best form in the BUCS Super Rugby competition as they look for a fourth win from four today (Wednesday).
The Blue and Gold play host to Durham University on the Sports Training Village athletics in-field at 6.30pm and admission is free once again, with the players and coaches hoping for another big crowd to roar them on.
There has been plenty to cheer so far thanks to wins over Team Northumbria, Loughborough University and Leeds Beckett. The forwards have been in fine form in those games, with hooker Tom Doughty and prop Wood scoring six tries between them.
Bath have had to come from behind every time, though, and Wood is confident there is more scope for improvement in the weeks ahead.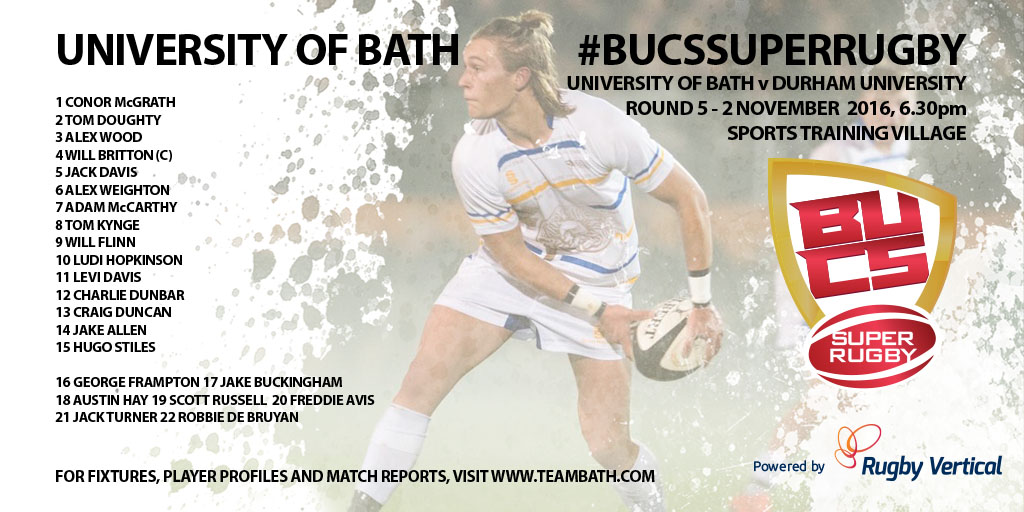 "We've had poor starts to our first three games because we've been giving teams too much respect," he said. "What we have to do is start believing in ourselves because we're a very good group of players.
"We've won all of our first three matches but I would say we still haven't strung together a proper attacking performance yet. A lot of the time in our first three games we've spent defending. I'm really excited about what we can produce when we do start attacking."
The University of Bath have made two changes to the XV that started last week's hard-earned 17-14 win over Leeds Beckett at The Rec, with prop Conor McGrath and flanker Alex Weighton coming into the line-up.
University of Bath starting XV: 1 Conor McGrath, 2 Tom Doughty, 3 Alex Wood, 4, Will Britton (c), 5 Jack Davis, 6 Alex Weighton, 7 Adam McCarthy, 8 Tom Kynge, 9 Will Flinn, 10 Ludi Hopkinson, 11 Levi Davis, 12 Charlie Dunbar, 13 Craig Duncan, 14 Jake Allen, 15 Hugo Stiles.
Replacements: 16 George Frampton, 17 Jake Buckingham, 18 Austin Hay, 19 Scott Russell, 20 Freddie Avis, 21 Jack Turner, 22 Robbie De Bruyan.
Durham University starting XV: 1 Adam Brocklebank, 2 Jack Beazer, 3 Diogo Ferrasse, 4 Colin Markham, 5 Ed Varney, 6 Joe Duffy, 7 Brodie Wilson, 8 Buchan Richardson (c), 9 Tim Turner, 10 Nathan Holmes, 11 Ben Stevenson, 12 Sam Moncur, 13 Tom McLean, 14 Rob Stevenson, 15 Tristan Rawcliffe.
Replacements: 16 Max Hayes, 17 Gabriel Ames, 18 Cai Devine, 19 Ethan Harbinson, 20 Harry Bassett, 21 Ben Cook, 22 Ali Neden.
Referee: Luis Caviglia.
Assistant officials: Charles Gayther, Iain Kly.