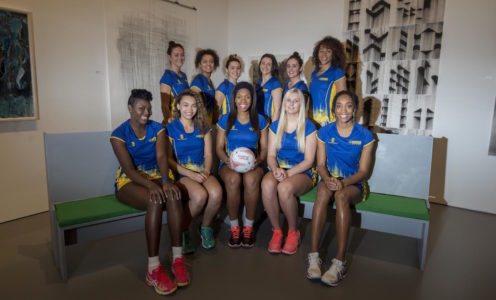 Team Bath Netball continued to forge the "family spirit" they hope will drive them towards another Vitality Netball Superleague title when players, coaches and sponsors gathered for the annual squad photoshoot on Tuesday.
Eleven of the 12 members of the Superleague squad – featuring world-class returning favourites, international recruits and emerging talent – were joined by seven training partners at The Edge, the £10.9million arts centre adjacent to the Blue and Gold's University of Bath Sports Training Village home.
Also present were members of the extended Team Bath Netball family including Stephen Baddeley, Director of Sport at the University of Bath, and representatives of West Country law firm Mogers Drewett, who are Team Bath's Education Partners.
The photoshoot continued the countdown to the 2017 Superleague season, which gets under way in February and will be contested by ten franchises – two more than in 2016 when Team Bath finished an encouraging third overall.
Jess Thirlby, Director of Netball at Team Bath, said: "I always get excited when I see the group together in the Blue and Gold kit, all united – you take stock for a minute and appreciate the quality of the squad we have brought together.
"We have retained a really great backbone to the team, both in terms of leadership and their on-court contribution. The quality of the players we have been able to add to that is a testament to the reputation and the profile of Team Bath.
"There is always an unfaltering desire at Team Bath to win the league but more important than that is how we do it. It's important that we are a family on and off the court – we win together, we lose together, we learn together."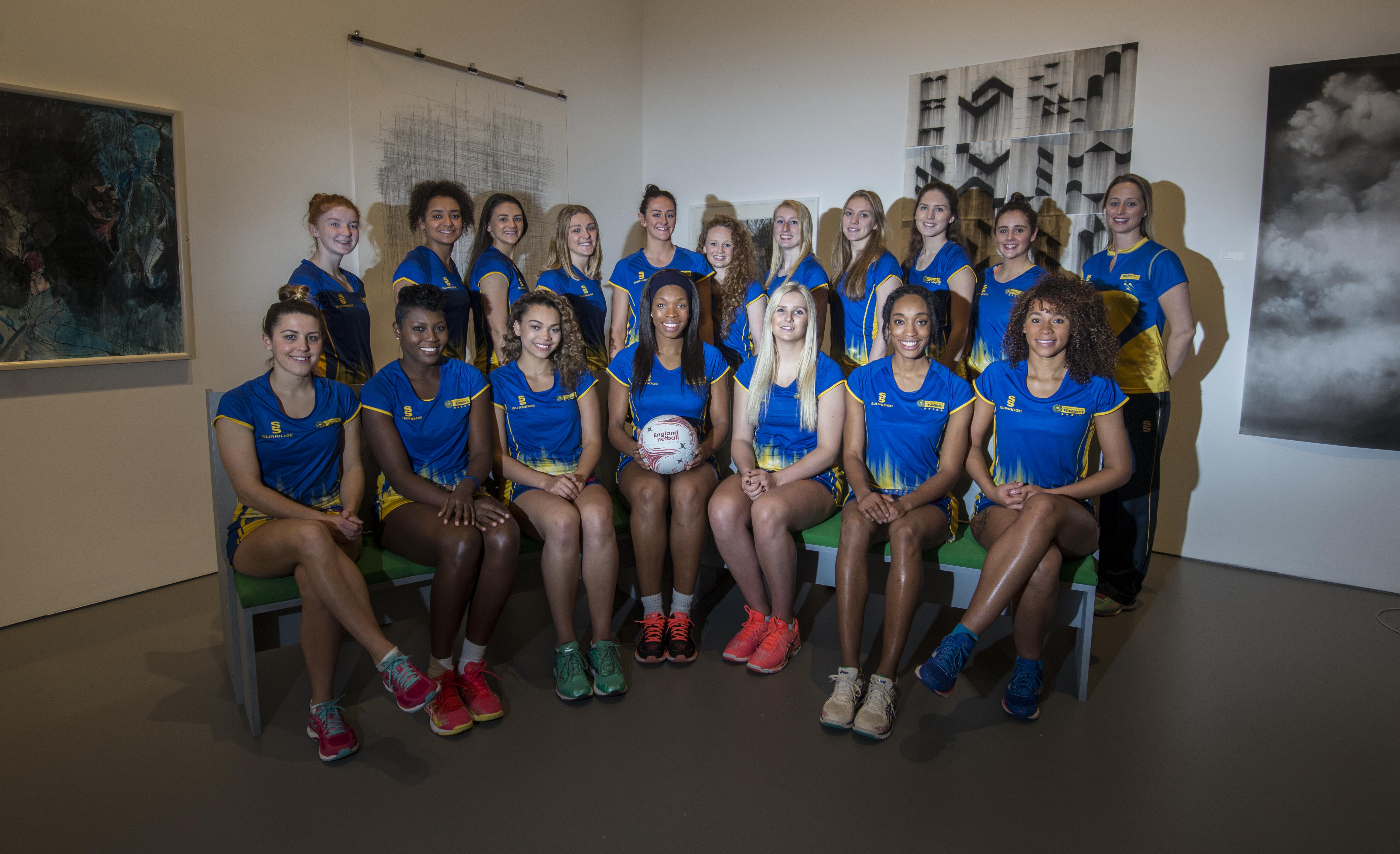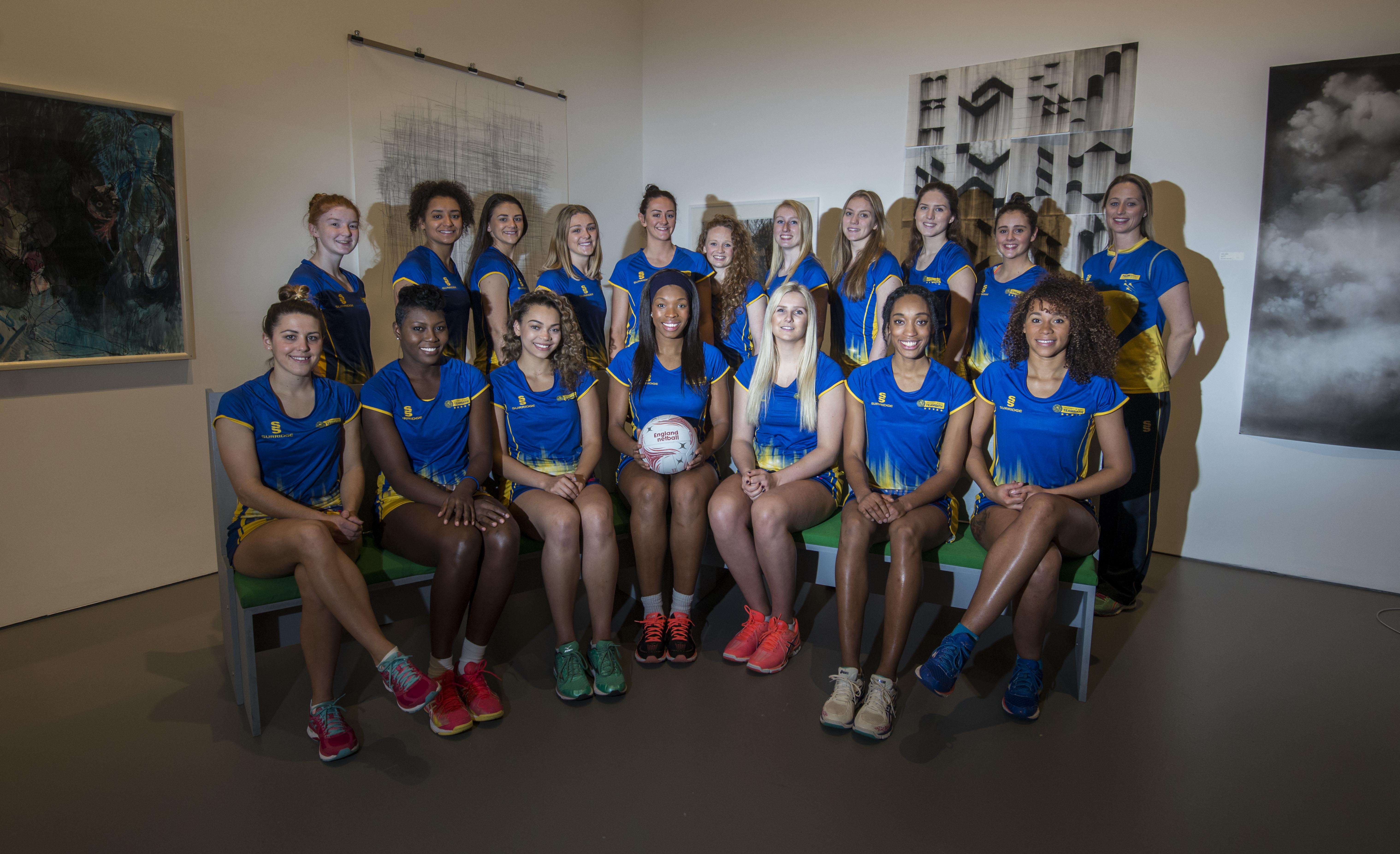 New arrival Layla Guscoth – part of a formidable defensive unit also comprising fellow England internationals Eboni Beckford-Chambers and MJ Church sporting ambassador Sam Cook, plus Jamaican star Vangelee Williams – says she has quickly felt at home in the Blue and Gold.
"I'm having a really good time here," said Guscoth, a former Superleague Player of the Year. "It's such a welcoming environment and such a lovely team, the whole set-up is so professional and easy to step right into.
"I can't wait to play now, February can't come soon enough. My aim every season is to win the league and we have a really strong team here capable of doing that."
Fellow new recruit Williams has been in Bath for a couple of weeks and says she has been welcomed into the fold by her new team-mates.
"It has been wet and cold since I arrived but the love I am getting from the team has definitely made me warm," said Williams, who is part of the Jamaica squad for next week's three-match Test series against England along with fellow Team Bath new girl Shantal Slater.
"They have been so welcoming and Bath is such a beautiful city, so I am settling in very well. It's a pleasure to be here and work alongside these girls. We all have the same aim – to win the championship."
Welsh international shooter Chelsea Lewis is starting her second season with Team Bath and understands why Guscoth and Williams have already found their feet.
"It's the atmosphere – there is a real team culture and the girls are so welcoming," she said. "Any new players are made to feel at home very quickly.
"I absolutely love it here. I learnt so much last season and I'm very excited to see what will happen this year."
Team-mate Cook will wear the Blue and Gold for a seventh successive season and is also eagerly anticipating the challenge ahead.
"This is definitely the strongest squad I have seen during my time here," she said. "The coaches have done really well to maintain the backbone of last season's squad and bring in some talented new players to keep things fresh.
"Then you've got the likes of Imogen Allison, Jess Shaw and Paige Reed coming in – all England U21 players with great potential. I can't wait."
Fans in the South West will have their first chance to see Team Bath's new-look squad in action on January 7, 2017, when the University of Bath hosts a tri-tournament also featuring Loughborough Lightning and Superleague newcomers Wasps Netball.
Team Bath will also have nine home matches at the Sports Training Village during a bumper 2017 season. Tickets for those games, as well as the tri-tournament, are now on sale priced £12 for adults, £8 concessions and £35 for a family ticket.
Season tickets providing admission to all nine Superleague matches are also available priced £75 for adults and £50 concessions. To purchase tickets, visit www.teambath.com/events/ticketline/ or call 0844 888 4412.
Team Bath Netball are sponsored by Sitec, Mogers Drewett are their Education Partners, Surridge are the kit supplier and Skins provide the team with compression wear.
Tuesday's photo-shoot took place against a backdrop of the Jerwood Drawing Prize exhibition at The Edge. The Exhibition runs until 17 December and is generally open from 11am-8pm Tuesday-Thursday and 11am-5pm on Friday and Saturday. Admission is free.