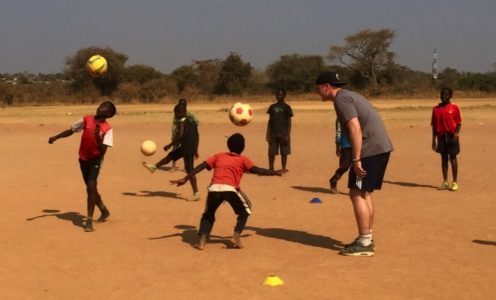 Jake Samuel, James Morrissey, James Odagi and Jan Gosiewski are the latest University of Bath students who will be helping to enrich the lives of young Africans through the power of sport, leadership and education.
The quartet have been selected for the inspirational Volunteer Zambia project, which is now in its 12th year and sees students working in villages to provide sporting opportunities for youngsters, develop community sport programmes and mentor volunteers in coaching roles. They also deliver health awareness workshops.
They are now busy raising funds to pay for their visits in the summer of 2017 and, along with fellow students and staff at the University, have signed up for the Bath Half Marathon as part of a RAG Team 50. A 'Take Me Out' evening based on the ITV show is also being planned for the new year.
Great Britain international judoka Gosiewski, in his third year of a Mechanical Engineering PhD course, has visited Africa several times during his competitive career and is looking forward to spending more time working in the local community.
"Having a positive impact on the lives of the less privileged and contributing to a lasting legacy will be the biggest reward in itself," he said.
"I aim to share my experiences as a coach and international judo athlete to empower young people through sport. I hope to learn about the Zambian culture and develop my leadership skills by solving problems encountered during the introduction of the development programme."
Footballer Odagi, a second-year Sport & Social Sciences student, said: "I hope to gain so much knowledge and experience working with communities from a different background and engaging with the Zambian culture."
Second-year Sports Performance student Morrissey added: "In Zambia I hope to implement sustainable development pathways across a variety of sports and promote women's football in particular."
Samuel started his Sport & Social Sciences degree this year after taking time out to go travelling. He will undertake a non-coaching role in Zambia, focusing on marketing, communications and fundraising.
"My involvement in the enhancement of sport in the developing world has given me the desire to pass on my knowledge of not just sport but life skills," he said.
"Also I will use the experience to further develop my understanding of sport in the developing world, which will aid my studies of comparing sport in different social atmospheres."
Morrissey and Odagi will be in Zambia from June 1 to July 12, while Gosiewski and Samuel will be in the second group to visit from July 11 to August 21. Sophie Thomas, BUCS Performance Officer at the University of Bath, will also visit the project during the summer.
More than 50 University of Bath students have taken part in Volunteer Zambia – formerly known as the Zambia IDEALS project – since it was first established by the Wallace Group of UK Higher Education Institutions in 2005.
The 2017 programme will see Student Sport Development Officers from seven Universities work alongside the Zambian non-government organisation Sport in Action to support the development of more effective talent pathways in key sports, including volleyball, netball and women's football.
They will also use their own sporting experiences to develop the skills of young Zambians in coaching and coach education, officiating, leadership and wider sports volunteering with the aim of creating sustainable opportunities for people to play and progress in sport.
To support the group's fundraising appeal or for more information about Volunteer Zambia, click here or go to www.facebook.com/volunteerzambiabath.