Since his arrival at Team Bath in September 2012, Senior Strength and Conditioning Coach Bob Smith has worked with a number of professional athletes and coaches within the renowned Team Bath MCTA tennis programme, including players who have appeared at Wimbledon and the US Open.
Now, Bob tells us how athletes of any age or ability can make 2017 the year for achieving their fitness goals.
Bob's steps:
1. Get out the door
"Getting out in the first place is the most difficult part," Bob, who also oversees the strength and conditioning training of the University's badminton performance group, tells us.
"Commit to a five-minute walk or run; you'll often find just getting changed into different clothes and getting out is enough to push for something more. But there's no pressure – if you head back in after five minutes then it's still a success."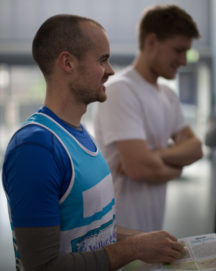 2. Don't let perfect get in the way of good
"This is a favourite line of one of my colleagues, [fellow Team Bath strength and conditioning coach] Luke Vella," Bob says.
"In essence, even if you have the 'wrong' kit, or don't have the expertise of one of our professional athletes, just get out and do something. Later on, read further into how to achieve your desired goals so that you're continuously learning. Don't postpone action for the sake of getting it 100% right."
3. Use social accountability as a motivational tool
Bob has achieved special notoriety within the Sports Training Village over the past 12 months after committing to a grueling challenge to run 52 half-marathons in 52 weeks in aid of Bristol Children's Hospital, who provided care for his daughter Autumn when she was taken seriously ill aged just four weeks with a life-threatening heart condition called Supraventricular Tachycardia.
Rising awareness for Bob's challenge peaked on week 50 when more than 50 members of Team Bath staff, athletes and coaches ran with him on his 50th half-marathon. And it is positive peer pressure on occasions likes this which Bob believes has helped him achieve his target.
"Something that's been integral to the success of my challenge this year is the social accountability that I feel from all the social media spotlight and fundraising efforts," he said. "A lot of times I've not felt like going out to run but have been forced to through the structure of the challenge.
"My advice is to find some way of creating social accountability – get a friend to join you, set goals and make bets to achieve those goals with your friends."
To explore the various ways Team Bath can help you achieve your fitness aims in 2017, see our Fitness pages.
If you'd like an informal chat about how a flexible Team Bath membership can offer you the services you need, contact our memberships team.
Photos courtesy of facebook.com/JJBImages