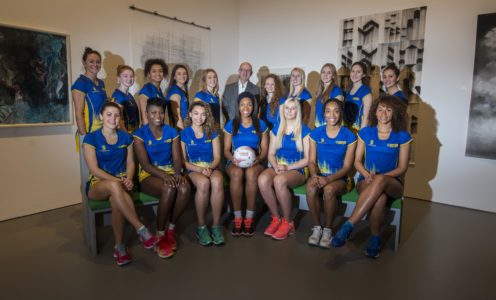 Fresh from their tri-tournament success this weekend the Team Bath Netball family has welcomed a new member in Centurion Wealth Management.
The Corston-based firm of financial and wealth management advisers will support the team with finance aimed particularly at developing the team's performance analysis capabilities.
"Team Bath Netball is already a strong force nationally as well as a high-achieving local team. We wanted to reward and help develop that excellence by providing the netballers with some targeted funds for the next two years", said Stuart Doughty, Centurion Wealth Management's Director.
Team Bath finished in the top three of last year's Vitality Netball Superleague and have won the title five times before. The 2017 season starts, for this national, televised league, in February and features an expanded league of 10 rather than eight teams.
"Competition for top honours will be fiercer than ever before with a bigger league and new franchises like Wasps on the scene", said Jess Thirlby, Team Bath's Director of Netball.
"We need to look at developing our ability to analyse our matches swiftly and put any changes into action for the next challenge. Centurion Wealth Management's funds will be supporting our video-analysis capability as well as providing support towards travel expenses for our young coaches and players".
In addition Centurion will provide financial planning support and networking sills workshops and opportunities for the team with local and regional businesses.
Team Bath's first home match will be on 6 March at the University of Bath's Sports Training Village at 7.45pm with doors opening for pre-match warm-up and entertainment from 6pm.
For more information about Centurion Wealth Management visit: http://www.centurionwm.co.uk/about/
For more information about Team Bath Netball and the Superleague fixtures and tickets: http://www.teambath.com/sport/netball/superleague/
Follow us on Twitter: www.twitter.com/teambath
Follow us on Facebook: www.facebook.com/teambath
For more information about this press release contact: The Team Bath Press Office at Matchtight Ltd on 01225 383518 or press@matchtight.co.uk