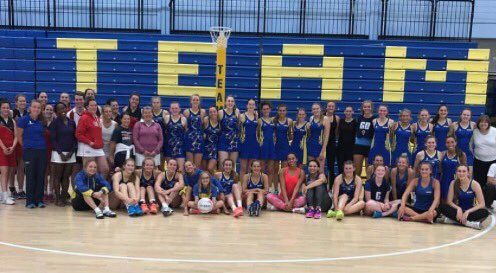 The next generation of Team Bath Netball stars will be testing themselves against opposition from across Britain over the next four days when the 2017 NPL Tournament takes place in the University of Nottingham.
The event, which runs from Thursday to Sunday, features Blue and Gold Futures teams in U21, U19 and U17 competitions.
Follow @teambathnetball on Twitter for updates.
TIMETABLE
TEAM BATH NETBALL U21, GROUP A
Thursday, 4pm: Hertfordshire Mavericks
Friday, 10.45am: Team Northumbria
Friday, 4pm: Surrey Storm
Saturday, 9am: Wasps Netball
Saturday, 4pm: Loughborough Lightning
TEAM BATH NETBALL U19, GROUP D
Thursday, 2.15pm: Yorkshire Netball
Friday, 9am: Manchester Thunder
Friday, 2.15pm: Hertfordshire Mavericks
TEAM BATH NETBALL U17, GROUP F
Thursday, 12.30pm: Yorkshire Netball
Thursday, 5.45pm: Manchester Thunder
Friday, 12.30pm: Team South Tigers
Friday, 7.30pm: Wales Netball
Saturday, 12.30pm: Surrey Storm
SQUADS
U21: Hannah Blackman, Imogen Allison, Ella Powell-Davies, Imogen Spark, Shona O'Dwyer, Tash Pavelin, Paige Reed, Kirsty Harris, Christina Shaw, Hannah Barnes, Liberty Burnett, Abi Robson. Training partners: Kim Jerwood, Maisie Sharpe. Coaching team: Denise Ellis & Leanne Lewis.
U19: Hannah Passmore, Anna Lebe, Sam Sullivan, Lauren Wood, Elisha New, Holly Passmore, Millie Pearce, Anya Le Monnier, Georgina Ford, Caitlyn Oates, Annabel Staley, Morganne Dunn, Maddie Durham, Georgia Jenkins. Coaching team: Natalie Peperell & Nikki Lloyd.
U17: Rosie Bartlett, Amber Booth, Libby Rothwell, Annie O'Rourke, Emma Payne, Tallulah Norman, Rachael Fee, Ellie Vohra, Emily Becconsall, Meg Connebeare, Maya Meredith, Olivia Mitchell, Anna Brophy. Training partners: Sophie Daenon, Sophie Ewin, Leah Dooner. Coaching team: David White & Julie Woodman.