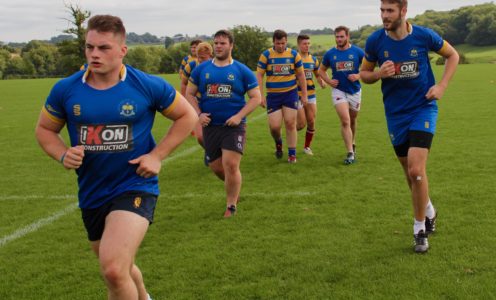 The University of Bath men's rugby squad enjoyed "a worthwhile day" in Nottingham as they played their first warm-up match ahead of the new BUCS Super Rugby season.
The IKON Construction-sponsored Blue and Gold gave 38 players a run-out against the University of Nottingham during Wednesday's game, which was played in three 30-minute periods and saw the visitors win by five tries to four.
Head of Rugby Aaron James said: "It was a worthwhile day and a great opportunity to put the processes we have been working on during the first week of pre-season training into practice.
"We managed to give everyone some game-time and it was a good chance to try things out and get the players used to working with each other, as well as gain experience of the new laws for this year."
The six new laws, introduced by the World Rugby Executive Committee for the 2017-18 season, relate to the scrum, tackle and ruck, and are aimed at making the game simpler to play and referee.
The University of Bath, who this week announced a three-year player development partnership with Bath Rugby, will continue their build-up to the BUCS Super Rugby season with two matches at home to defending champions Hartpury on Wednesday, September 13.
The 2nd XVs will be in action first at 1pm, followed by the 1st XVs at 2.30pm. The matches will take place on the Lime Kiln Pitches, weather permitting.
The first Super Rugby league match is at home to Leeds Beckett University on Wednesday, September 27 (6.30pm). That will be played on the athletics infield at the Sports Training Village and admission is free.
Click here for more information about the rugby programme at the University of Bath.