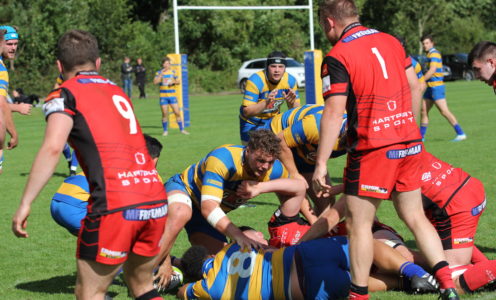 University of Bath Head Rugby Coach Mark Lilley says his players will have learnt plenty from their warm-up matches against defending BUCS Super Rugby champions Hartpury College on Wednesday.
The IKON Construction-sponsored Blue and Gold entertained their Gloucester-based rivals in 1st and 2nd XV fixtures on the Lime Kiln Pitches, with the visitors taking the spoils in both matches.
It was a tough but worthwhile test for the University of Bath players, who have only been back in pre-season training for a fortnight, and Lilley felt there were a number of positives to take from the experience…
The University of Bath men's 1st XI play their first match of the 2017-18 BUCS Super Rugby season on Wednesday, September 27 when they welcome Leeds Beckett to the Sports Training Village. Kick-off is 6.30pm and admission is free.
Click here for more information about the rugby programme at the University of Bath.