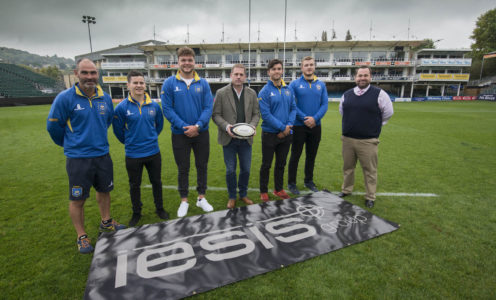 Top-flight student rugby will once again return to The Recreation Ground, Bath Rugby's world-famous city-centre home, when it stages an eagerly-awaited Anniversary Game between the University of Bath and rivals Loughborough next month.
More than 5,000 spectators are expected to cheer on the Blue and Gold at the BUCS Super Rugby match, which is taking place on Wednesday, October 18 (6.30pm) and will be sponsored by leading property and engineering company Iesis Group. Admission is free.
The fixture, set to become an annual one, will celebrate the anniversary of the University of Bath receiving its Royal Charter in October 1966 – a 50th-anniversary match last year proved to be a huge success, enjoyed by thousands of students, alumni, staff and rugby fans alike.
Iestyn Lewis, CEO and founder of Iesis Group, has first-hand knowledge of playing at The Rec having helped Bath Rugby to successive league titles in 1991, 1992 and 1993. He also studied at the University of Bath, where he was a sporting scholar, and is a former Team Manager of the University's rugby set-up.
"I am delighted to support this key fixture and to help these young athletes achieve their sporting ambitions," said Lewis. "This fixture signifies 27 years since I began my studies at the University and being part of this significant milestone for the University is enormously satisfying.
"Through my sports scholarship I was presented with numerous life opportunities and I'm pleased to be able to reciprocate that generosity."
The Anniversary Game is part of the BUCS Super Rugby competition, a national league featuring only the top nine higher-education rugby institutions in the country. It is designed to raise the profile of university rugby, progress the level of performance to National League standard and establish a pathway to elite and professional rugby.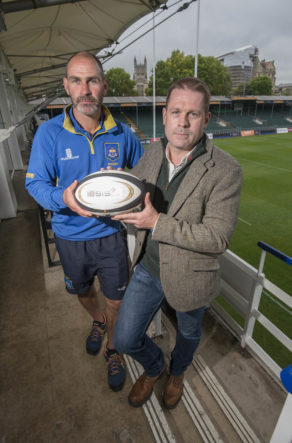 The University of Bath is a founder member of the competition and the men's 1st XV, sponsored by IKON Construction, will start their 2017-18 campaign this Wednesday (September 27) against Leeds Beckett University at the Sports Training Village (6.30pm kick-off).
Aaron James, Head of Rugby at the University of Bath, is looking forward to both the new season and returning to The Rec for another high-profile fixture.
"It is always a great occasion when we play at The Rec, it is one of the most famous grounds in world rugby and a place that all rugby players aspire to compete at," he said.
"We played Leeds Beckett at The Rec last year and it was fantastic to have thousands of people come out to cheer us on to a good victory. We are hoping for another big crowd against Loughborough, it should be a cracking match against a team that will also be challenging for BUCS Super Rugby honours this season.
"Thank you to Iesis Group for sponsoring the Anniversary Game and to Iestyn personally for his support. Iestyn has helped develop University of Bath Rugby Club as a student player, coach and now sponsor, and epitomises our wide rugby alumni. The backing we receive from local companies helps us continue to grow our rugby programme and develop our students to be the best they can be, both as players and people."
The University of Bath has strong links with Bath Rugby and recently announced a three-year partnership that will provide a coordinated training and competition environment for both students and members of the Bath Academy programme. Several University players have already represented Bath United in the A League this season.
Click here for more information on the rugby programme at the University of Bath.
Iesis Group is a multi-disciplinary property and engineering company dedicated to delivering excellence on each of its bespoke schemes, and specialising in the delivery of complex projects in sensitive locations over a range of contract values. It has offices in Bristol, London and Sierra Leone. For more information, visit www.iesis.net.
Pictured top are Iesis Group CEO Iestyn Lewis (centre) with (from left) University of Bath Head of Rugby Aaron James, players Douglas Crawford, Jack Davies, Charlie Dunbar and captain Will Britton, and University of Bath Deputy Director of Sport Greg Sharp launching the Anniversary Game at The Rec.