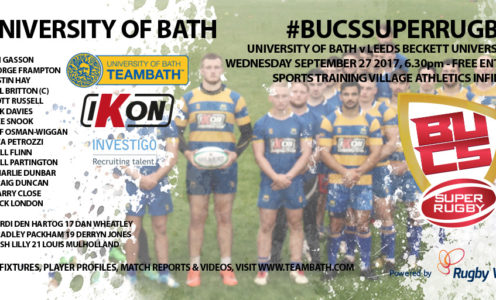 It's back! BUCS Super Rugby returns to the University of Bath tonight and the men's 1st XV are hoping for a bumper crowd during Freshers Week for their 2017-18 opening match against Leeds Beckett University.
Last year's meeting between the two sides was one of the most memorable in the inaugural Super Rugby season as the Blue and Gold beat Leeds 25-7 in front of a 5,500 crowd at The Rec on the University's 50th anniversary.
This year's match is taking place on the athletics infield at the Sports Training Village, the University's regular home pitch, and will get under way at 6.30pm. As with last season, all home matches are free to watch and there are plenty of great vantage points including the balcony outside the Sports Cafe, the athletics track and a stand where many of the vocal fans congregate to cheer on their team.
There are a host of familiar faces in the University's starting XV to face Leeds Beckett, with six of them – captain Will Britton, Scott Russell, Jack Davies, Will Flinn, Will Partington and Craig Duncan – having represented Bath Rugby in the A League this season.
The University of Bath men's 1st XV are sponsored by IKON Construction and Investigo.
Tonight's line-ups
University of Bath: 15 Jack London, 14 Harry Close, 13 Craig Duncan, 12 Charlie Dunbar, 11 Will Partington, 10 Will Flinn, 9 Luca Petrozzi; 1 Ben Gasson, 2 George Frampton, 3 Austin Hay, 4 Will Britton (C), 5 Scott Russell, 6 Jack Davies, 7 Mike Snook, 8 Stef Osman Wiggan. Replacements: 16 Jordi Den Hartog, 17 Dan Wheatley, 18 Bradley Packham, 19 Derryn Jones, 20 Josh Lilly, 21 Louis Mulholland.
Leeds Beckett University: 15 S Allan, 14 H Robinson, 13 D Kelly, 12 H Collier, 11 D Leake, 10 S Fox, 9 C Lloyd; 1 R Everleigh, 2 H Newborn, 3 X Valentino, 4 A Wadden, 5, S Nel, 6 J Vissor, 7 T Lloyd, 8 T Francis. Replacements: 16 T Nuku, 17 C Cade, 18 N Riding, 19 J Teague, 20 B Dixon, 21 C Venebles, 22 J Elliott, 23 S Theron.
Referee: Anthony Woodthorpe.
Assistant referees: Andy Wigley, Fred Spong.