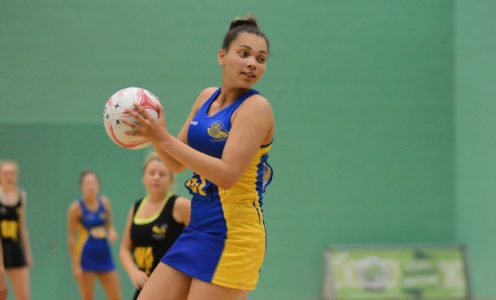 More talented young netballers from across the South West will now have the chance to develop their game the Blue and Gold way following the launch of a new Team Bath Netball Futures Pathway.
Two Team Bath Netball Academies and three Team Bath Netball "Hubs" have been set up across the region, allowing 80 aspiring netballers, aged from 14 to 21, to benefit from top-class coaching and lifestyle and sports science support. This new network is also supported by Netball South West.
Team Bath remains the national Superleague's most successful team with five titles since the league started in 2003 and the South West's franchise has only once finished outside the league's top four.
They recently reached the final of the inaugural, televised Fast5 tournament at The O2 in London. Team Bath has nurtured more than 70 players into the England set-up or other international teams since its inauguration.
The Academies are based at the University of Bath – along with the Superleague and Netball Performance League squads – and the University of Exeter.
Bryanston School in Dorset, SGS (South Gloucestershire & Stroud) College in Bristol and Truro & Penwith College in Cornwall are hosting the Hubs.
Head Coach Jess Thirlby, who heads up the whole pathway and Superleague coaching structure and who will soon be joined by an Academy Head Coach, said: "At Team Bath Netball we have always sought to provide youngsters with the opportunities to develop as both players and people and this exciting new set-up takes that approach to another level.
"The Futures Pathway will ensure that even more talented netballers from across the South West will get access to the Blue and Gold family and learn from our outstanding coaches, whilst also strengthening our links with the local communities, clubs and schools.
"Athlete wellbeing is at the heart of this programme. Thanks to these regional centres, netballers will not have to travel far to attend coaching sessions and they will also have access to support services like physio, performance analysis, strength and conditioning training and nutritional advice.
"I'm really proud and we, as a franchise, feel privileged to take on the responsibility of nurturing talent across the Southwest and to improve accessibility to training, increase the quality of training, increase "coach time" for the athletes and to ensure the coaching is of the highest quality.
"This has to be about quality not quantity in these initial stages as we look to build on this in the near future.
"I've visited Exeter, Truro and Bristol during their initial sessions and it's inspiring to see everyone hard at work. We hope to enable as many of them as possible to go on to represent the Blue & Gold at Superleague. There's a lot we still want to do but we love a challenge and we know the future is bright".
Experienced coach Denise Ellis, who has provided sterling service for Team Bath and England in many roles during her career, will manage the Exeter Academy while also coaching the Exeter's BUCS [British Universities & Colleges Sport] team.
She said: "I am very excited to commence the new Team Bath Hub and Academy in Exeter. This will give an opportunity for local players to enhance and improve their netball knowledge across key aspects to enable them hopefully to represent the Blue & Gold in the future.
The partnership between Exeter University and Team Bath is an innovative relationship and I am looking forward to working with all the players who are part of what we are doing".
The Dorset Futures Hub will be based in Bryanston School's newly-built sporting facilities and led by Blue and Gold legend Jo Vann, a four-time Superleague winner and England international. She will work in tandem with Alex Chapman, a former Team Bath and England U21 strength and conditioning coach who will also contribute to the overall Futures Pathway programme.
Vann said: "As a young player, I benefited greatly from the expert coaching at the Truro hub which allowed me to access very high intensity training with like-minded athletes, closer to home. It helped me develop the mental and physical toughness required to play International Netball. I am now delighted to be able to pass on our unique Team Bath ethos to athletes training at the new hub in Dorset and enable them to access the amazing opportunities that the Team Bath Netball Franchise has to offer".
Jean Davies, who will lead the Cornwall Hub, has been part of the Team Bath set-up in various roles since joining the Apprentice Coaching scheme established by then Head Coach Lyn Gunson in the early 2000s. She has played an important role in building the Futures Pathway vision.
"I am so excited to be part of this new initiative," she said. "Having been with Team Bath Netball since its inception and seen the various changes I am so pleased to be helping this great franchise progress once again.
"It will give players in Cornwall an identity directly linked to Team Bath and re-energise the aspiration to represent the Blue and Gold as a Superleague player. These are exciting times and the Truro Hub is ready for the challenge."
Team Bath have long-standing links with SGS College, with Thirlby and current Wasps Netball coach Tamsin Greenway having taken their early steps into coaching there while playing for the Blue and Gold. As well as the Bristol Hub, the college will also host netball camps during the school holidays.
The Netball Futures Pathway is part of Team Bath Futures, a family of activities and services targeted at youth athlete development across a number of sports. The programme's aim is to provide the highest level of care and service in order to develop good athletes, both physically and mentally, while reducing the risk of injury during the formative stages of their careers.
Team Bath Netball are sponsored by Sitec and supported by partners Mogers Drewett and Investigo. Centurion Chartered Financial Planners are supporting the team's performance analysis capabilities, Viper 10 are their Sportswear Supplier and Skins provide the team with compression wear. For more information, visit www.teambath.com/netball.
TEAM BATH NETBALL FUTURES PATHWAY PLAYERS 2017-18
University of Bath (North Academy): Emily Becconsall, Anna Brophy, Liberty Burnett, Sophia Daenen, Maddie Durham, Georgina Ford, Kirsty Harris, Georgia Jenkins, Anya Le Monnier, Anna Lebe, Maya Meredith, Olivia Mitchell, Elisha New, Annie O'Rourke, Hannah Passmore, Holly Passmore, Emma Payne, Millie Pearce, Imy Spark, Annabel Staley, Ellie Vohra,
University of Exeter (South Academy): Hannah Barnes, Meg Benefer, Josie Bennett, Hannah Blackman, Amber Booth, Emily Bridges, Megan Conabeare, Sophie Ewin, Rachel Fee, Taylor Hawkins, Lauren Knight, India Leetham, Isla May, Sacha Mees, Sophie Orchard, Charlie Plumridge, Imogen Plumridge, Poppie Sampson, Maisie Sharp, Christina Shaw, Charlotte Steer, Carly Stephens, Jessica Stewart, Grace Wilton, Lauren Wood.
Bryanston School (Dorset Hub): Anna Brophy, Evie Corn, Sophia Daenen, Melissa Dickinson, Eleanor Fitzgerald, Emily Fitzpatrick, Georgina Ford, Katie Giles, Sasha Green, Molly Hole, Maya Meredith, Maddie Newcombe, Annie O'Rourke, Emma Payne, Jade Peckham, Zoe Shadlock.
SGS College (Bristol Hub): Emily Becconsall, Maddie Durham, Nia Evans, Amber Gardner, Katie Harding, Georgia Jenkins, Ellie Jupp, Francesca Keating, Jessica Lindsay, Olivia Mitchell, Talulla Norman, Hannah Passmore, Holly Passmore, Millie Pearce, Mia Reegan, Jascha Simpson, Immy Stringer, Holly Trippe, Ella Warner.
Truro & Penwith College (Cornwall Hub): Esme Adams, Rosie Barlett, Jade Beech, Fabienne Bull, Leah Dooner, Bethany Gummow, Liberty Hartley, Caitlyn Oates, Amelia Ryan, Amy Walker.