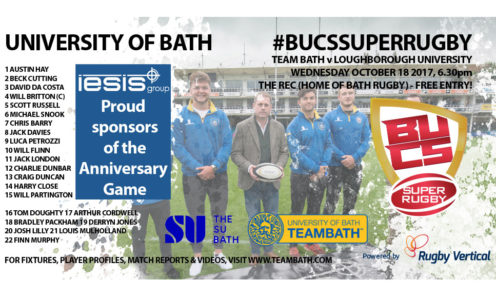 A huge crowd is expected to cheer on the University of Bath men's 1st XV as they run out at the world-famous Recreation Ground tonight (Wednesday) for the eagerly-anticipated BUCS Super Rugby Anniversary Game against old rivals Loughborough University (6.30pm).
Entry is free for the big match, which is being sponsored by property and engineering company Iesis Group and will celebrate the anniversary of the University receiving Royal Charter status in October 1966.
Will Britton will captain the Blue and Gold tonight and said: "Leading the team out at The Rec is something that doesn't happen every day and it's one of those opportunities you have to grab and make the most of. Personally I'm going to try and enjoy it as much as I can."
Centre Charlie Dunbar was a try-scorer when Bath last played at The Rec, a victory over Leeds Beckett University last season in front of nearly 6,000 spectators, and is hoping for another big turnout tonight.
"I think it's going to be a great event," he said. "There are 3,000 new freshers on campus and it would be great to see as many of them as possible embrace this opportunity to visit The Rec and get behind the team."
Iestyn Lewis, CEO of sponsors Iesis, was a former sporting scholar and Head of Rugby at the University of Bath. He played at The Rec on many occasions with Bath Rugby, helping them to three league titles in the 1990s, and is hoping the current crop of student rugby players will be as inspired by appearing at the iconic ground as he was.
"Playing on a stage like The Rec is such a big thing and it's something you never forget," he said.
"I was fortunate enough to play there quite a few times and I certainly made the most of it, I hope these players do too. Even if you don't go on to be a professional rugby player, to take an experience like this into your business career is amazing.
"The game represents 27 years of being involved with the University of Bath. I was a scholar for five years, one of the first to be directly sponsored by the University, and also played for the club from 1990 to 1995.
"I moved to London and set up my own business, then came back to the South West in 2002 and spent five years as Director of Rugby at the University. It's been a long-standing relationship, so I'm delighted to be able to provide this support and opportunity to the young athletes.
"It doesn't matter how good a player you are, you need a chance and hopefully this sponsorship will give the students that opportunity to play on a great stage like The Rec and help them achieve their sporting ambitions. That is hugely important – you are a long time out of the game, so you need to grab those chances while you are young."
Doors will open at The Rec at 5.30pm and the match will get underway at 6.30pm. It will be preceded by a minute's applause in memory of former University of Bath player and club chairman George Stephenson, who sadly passed away aged 24 last month. Spectators will be encouraged to donate money to cancer research at the game.
Tonight's starting line-ups
University of Bath (sponsored by IKON Construction): 15 Will Partington, 14 Harry Close, 13 Craig Duncan, 12 Charlie Dunbar, 11 Jack London, 10 Will Flinn, 9 Luca Petrozzi; 1 Austin Hay, 2 Beck Cutting, 3 David da Costa, 4 Will Britton (c), 5 Scott Russell, 6 Michael Snook, 7 Chris Barry, 8 Jack Davies. Replacements: 16 Tom Doughty, 17 Arthur Cordwell, 18 Bradley Packham, 19 Derryn Jones, 20 Josh Lilly, 21 Louis Mulholland, 22 Finn Murphy.
Loughborough University: 15 Tom Ffitch, 14 Will Kaye, 13 Alex Glashan, 12 Oskar Hirskyj-Douglas, 11 Jack Antoniou, 10 Jack Waters, 9 Jack Moates; 1 Sam Grahamslaw, 2 Ollie Adams (c), 3 George Davis, 4 Theo Vukasinovic, 5 Luke Frost, 6 Musa Yusuff, 7 Sam Hudson, 8 Charlie Kingham. Replacements: 16 Harrison King, 17 Jarod Leat, 18 Seb Brownhill, 19 Max Hill, 20 Cam Dobinson, 21 Richard Lewis, 22 Tim Bitirim.
Referee: Matt Turvey.
Assistant referees: Andy Wigley, Mark Doran.