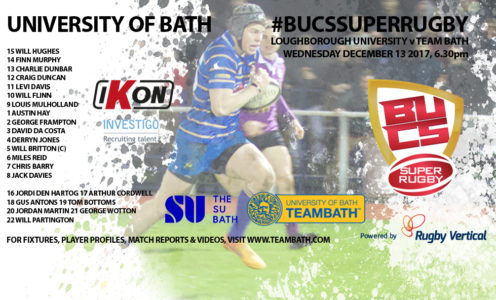 The University of Bath men's 1st XV will be looking to go into the Christmas break on a positive note when they visit old rivals Loughborough in the last BUCS Super Rugby match of 2017 tonight.
The Blue and Gold, sponsored by IKON Construction and supported by Investigo, have lost just one of their last five games and are now only two points behind fifth-placed Loughborough in the league table.
They have made just one change to the XV that started last week's 32-24 home victory over Durham, with United States international Louis Mulholland replacing Luca Petrozzi at scrum-half.
Click here for more information about the rugby programme at the University of Bath.
Tonight's team
University of Bath: 15 Will Hughes, 14 Finn Murphy, 13 Charlie Dunbar, 12 Craig Duncan, 11 Levi Davis, 10 Will Flinn, 9 Louis Mulholland; 1 Austin Hay, 2 George Frampton, 3 David da Costa, 4 Derryn Jones, 5 Will Britton (c), 6 Miles Reid, 7 Chris Barry, 8 Jack Davies. Replacements: 16 Jordi den Hartog, 17 Arthur Cordwell, 18 Gus Antons, 19 Tom Bottoms, 20 Jordan Martin, 21 George Wotton, 22 Will Partington.
Loughborough University: 15 Jack Burroughs, 14 Will Foster, 13 Joe Carolan, 12 Quinten Kosher (c), 11 Will Attfield, 10 Tom Ffitch, 9 Alex Glashan; 1 Sam Grahamslaw, 2 Callum Lynch, 3 Andrew Nathan-Boye, 4 Toby Hutchinson, 5 Will Est, 6 Max Hill, 7 Sam Smith, 8 Charlie Kingham. Replacements: 16 Harrison King, 17 Joe Nixon, 18 Osman Dimen, 19 Henry Wheadon, 20 Will Finley, 21 Matt Travers, 22 Jonathan Hughes.