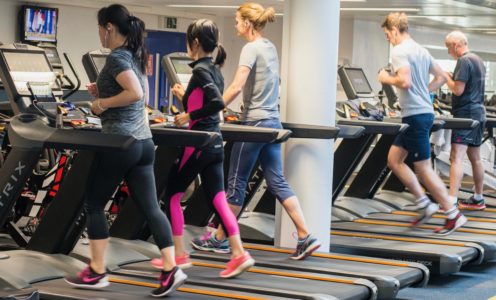 New Year brings new resolutions, so if your goal for 2018 is to enjoy a healthy and active lifestyle then our Team Bath Fitness team have some advice for everyone thinking of hitting the gym in January.
Come up with a long-term goal. It is very useful to have a target in mind that you would like to achieve, whether it's losing weight or running a 10k race. Think about where you would like to be in a year from now and figure out what you may have to do to achieve this goal.
Always go into the gym with a session plan. The best way to reach your long-term goal is through short-term 'stepping stones'. Think about what you would like to achieve by the end of a session or at the end of a week. If you are ever short of ideas for exercises, our enthusiastic and knowledgeable gym instructors can help you form a session plan that will ensure that you meet your goals.
Don't be intimidated by the equipment. Yes, we do have state-of-the-art Matrix machinery in the Team Bath Gym that can cater for advanced exercises but they can all be adapted to fit a whole range of sessions, including the simplest of exercises to fit everyone's needs. Our equipment includes eight Olympic-grade lifting platforms, a free weights section and a fleet of cardio-orientated machines, and our staff will be able to demonstrate the most effective and safe way to use them.
Keep track of your progress. This is essential if you want to achieve your long-term goals. At the Team Bath gym, we have a fitness tracker called Boditrax that measures various physiological aspects of your body including muscle, water, fat and bone composition, along with other physical attributes which will inform you on what to work on in future training sessions. You can access this data and track your training regime through the Team Bath Active App on your smartphone (both Android and iPhone).
Consider hiring a personal trainer. They can be incredibly helpful if you are struggling to stay motivated or failing to see the improvements you expected. Our personal trainers will tailor session plans and exercises to be as beneficial to you as possible. They will help you find the motivation that is needed to stick to a healthy lifestyle and supply you with advice that will benefit your health, even when you are away from the gym with tips on nutrition and rest patterns.
If all this has motivated you to join a gym in 2018, we are offering a FREE trial day with no obligation to buy a membership. You will also receive an induction to the gym from one of our knowledgeable instructors, so you can get to know the Sports Training Village environment before you get started. Click here for more information.
Also, check out our festive offer where you can get one month's membership for a discount price of just £39, providing access not only to the Team Bath Gym but also our Olympic-sized swimming pool, badminton and tennis courts, athletics tracks, fitness classes and more!