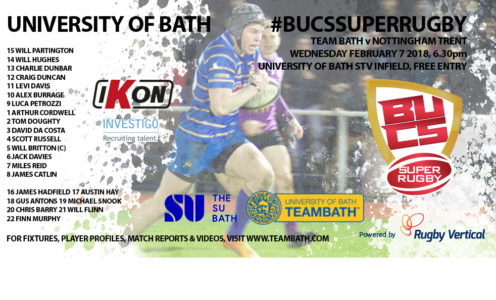 The University of Bath will host its final BUCS Super Rugby league game of the 2017-18 season tonight (6.30pm) when Nottingham Trent University make their first visit to the Sports Training Village.
Nottingham Trent are looking for their first win since being promoted to the league last season but ran Team Bath all the way in the reverse fixture, with Will Flinn's last-kick conversion giving the visitors a dramatic 27-26 victory.
Team Bath, sponsored by IKON Construction and supported by Investigo, welcome captain Will Britton and flanker Miles Reid back into the starting line-up after they helped Bath Rugby qualify for the Anglo-Welsh Cup semi-finals with victories against Newcastle Falcons and Ospreys.
James Catlin also makes his first start of the season at number eight – he came off the bench in the previous two matches after returning from a long-term injury.
Tonight's match will once again take place on the athletics infield at the Sports Training Village and admission to spectators is free.
Click here to find out more about the rugby programme at the University of Bath.
Tonight's teams
University of Bath: 15 Will Partington, 14 Will Hughes, 13 Charlie Dunbar, 12 Craig Duncan, 11 Levi Davis, 10 Alex Burrage, 9 Luca Petrozzi; 1 Arthur Cordwell, 2 Tom Doughty, 3 David da Costa, 4 Scott Russell, 5 Will Britton (c), 6 Jack Davies, 7 Miles Reid, 8 James Catlin. Replacements: 16 James Hadfield, 17 Austin Hay, 18 Gus Antons, 19 Michael Snook, 20 Chris Barry, 21 Will Flinn, 22 Finn Murphy.
Nottingham Trent: 15 Will Sutton, 14 Caetano Branco, 13 Alex Goble, 12 Harry Clempson, 11 David Williams, 10 John Hargreaves, 9 Alex Crocker; 1 Jamie Jack, 2 Jon Broberg, 3 Will Clarke, 4 Ben Davis-Moore, 5 Tim Cardell, 6 Scott Hall, 7 Seb Cecil, 8 Mike Ozdili. Replacements: 16 Tommie Collingwood, 17 Ben Smith, 18 Jacob Wraffter, 19 Mikey Gatehouse, 20 Harry Graham, 21 Adam Castle, 22 Max Craven.
Referee: Andy Wigley.
Assistant referees: Adam Wookey, Stuart Dillon.