The PyeongChang 2018 Winter Olympic Games may have just finished but Team Bath and partners MJ Church are already looking to the future by supporting a potential skeleton star of 2022.
Ashleigh Pittaway, a Youth Olympic Games gold-medallist in 2016, is only 17 years old but has already raced on the IBSF World Cup circuit five times and claimed a top-ten finish at the 2018 Junior World Championships in St Moritz.
She has been training full-time with the British Bobsleigh & Skeleton Association (BBSA) at the University of Bath since August and has now become the ninth University-based athlete to be named as an Ambassador for MJ Church.
The Marshfield-based Civil Engineering, Plant, Transport and Waste Management Contractor provide Pittaway and her fellow Ambassadors with a bursary towards their training and competition expenses. In return, the athletes help to inspire the company's staff and their families, as well as customers and stakeholders, to participate in sport and healthy activities.
Pittaway said: "I am proud to have been selected as a MJ Church Ambassador. Their support will be invaluable as we approach the start of the Beijing 2022 Winter Olympiad.
"I've won gold at the Youth Olympic Games and now it is all about developing towards my ultimate goal – winning a medal at the senior Winter Olympic Games."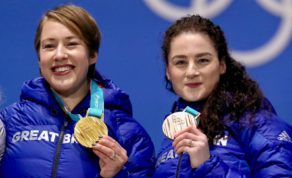 Pittaway grew up in Munich, Germany, and first tried skeleton aged ten while at a boarding school that specialised in winter sports. She has dual citizenship and joined the British Skeleton programme in 2015, going on to win Youth Olympic Gold in Lillehammer in February 2016 before making her World Cup debut later that month.
She showed further signs of her potential by winning silver and bronze on the Intercontinental Cup circuit in November 2016 before moving to Bath last summer to train full-time, using the University's unique push-start track and world-class gym.
Pittaway gained more experience on the ice this season, racing four times on the World Cup circuit alongside Lizzy Yarnold and Laura Deas as they worked towards a Winter Olympic Games where they famously won gold and bronze respectively.
"I really look up to Lizzy and the other athletes here, they are all really supportive," she said.
"I'm enjoying it in Bath. The push-start track is cool and just shows how professional the set-up is. Even though we don't have the ice and a home track, we have all the facilities to help us perform at the very top level.
"I'm a bit different to the other athletes as I got onto the programme because I can slide well but my start isn't that fast at the moment, while the others were selected because they start well but have to learn to slide. It's a bit different but I am ready to improve."
Pittaway joins a group of high-achieving MJ Church Ambassadors that includes Rio 2016 Paralympics silver-medallist Piers Gilliver (wheelchair fencing), Olympians Ben Fletcher (judo) and Joe Choong (modern pentathlon), and reigning British Champions Alex Lane (badminton), Anna Hopkin (swimming) and David King (athletics). Rugby player Sydney Gregson and Team Bath Netball star Rachel Shaw, both of whom are England internationals in their sport, are also proud to represent the company.
MJ Church, a dynamic business offering a diverse range of services from skip hire and waste collection to multi million-pound civil engineering contracts, became a partner of Team Bath in 2016 and supports sport from grass-roots level through to high performance.
Tom Church, Managing Director of MJ Church Plant and Transport commented, "We are really excited to be supporting Ashleigh in her quest to be the next skeleton medal winner to have trained at the University of Bath. Being able to support our young athletes through the ambassador programme and see the positive results they are achieving has been very worthwhile."