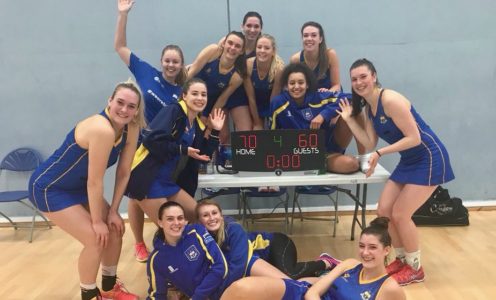 Three student-sport teams from the University of Bath will be looking to win national titles today when they compete at BUCS Big Wednesday.
The culmination of the 2017-18 student sports season, taking place this year at the University of Nottingham, will see the men's badminton team, women's netballers and women's water polo team all going for glory.
For a second successive year, Bath will take on old rivals Loughborough in the men's badminton Championship final. They won four games apiece when they met at the Sports Training Village in 2017, with Loughborough edging to a 10-8 victory on sets.
The netball team (pictured), coached by Team Bath Superleague player Asha Francis, have enjoyed an excellent season and will take on Hertfordshire in their Championship final. Among this season's squad are Blue and Gold Superleague stars Imogen Allison, Sophie Drakeford-Lewis and Tash Pavelin, U21 captain Chartie Curtis and Severn Stars players Sophie Carter and Nicole Humphrys.
The Women's Water Polo Trophy final will see Bath, who beat Surrey 17-6 in the semi-finals, take on Manchester.