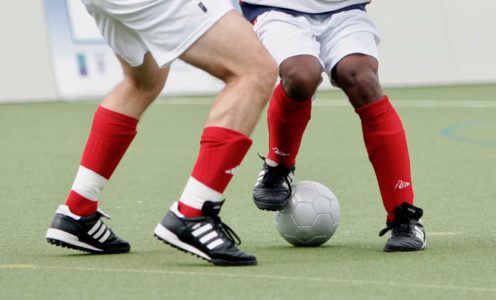 Students and athletes from multiple sports who train and compete at the University of Bath could be set to enjoy enhanced all-weather training facilities at the Claverton campus from the next academic year onwards.
Announcement of a new 3G training strip, which has been a high priority for students in particular for some time, came after a meeting of Council/Senate/Students' Union (CSSU) earlier this week at which the Vice Chancellor confirmed investment, subject to planning, into a 72m x 38m training pitch alongside the current Astro pitches which are extensively used for hockey, football and other training.
This comes as a result of a long-term collaborative effort between the student body and managers behind sport at the University. The new training strip will replace the current floodlit grass training area – often dubbed affectionately as the 'cabbage patch' by students.
Training space will be available for all grass pitch based sport clubs who may see as much as 50 more hours per week of training time.
Outgoing Student Union (SU) Sport Officer Will Galloway championed the development in his manifesto pledge and said: "It's amazing to finally see this happening for the students of Bath and a brilliant way to be able to sign off on my two years.
"Getting this over the line has been a team effort. Thanks have to go to many previous Officers who have worked on this over the last few years – students and staff who have been involved and also the University's Department of Sport who have worked alongside The SU from the beginning to bring this to pass. I'd also like to say a special thank you to the Sports Exec Committee members who have supported this throughout this year."
Work will start on the planning process imminently after which construction will take several months. The facility should be available to students for use during the next academic year.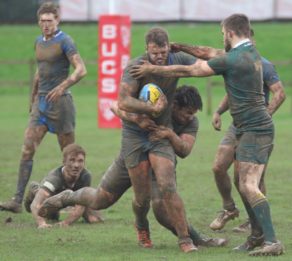 The University's Director of Sport, Stephen Baddeley, welcomed the investment and said: "With more and more students active in sport and fitness this development is vital to support them, particularly given the UK weather. We know that this training area will have considerable impact for student teams and clubs at all levels but also for Bath's reputation for high-performance sport – a reputation which drives local pride and inspiration for future generations."
This facility is viewed as a game changer for student sport clubs. Current University of Bath Rugby Club Chair Douglas Crawford said: "With the club growing in size, finding suitable training facilities is essential. The 3G will ensure that all our teams can train all year-round, improving the provision of rugby throughout the club."
American Football Chair Alex Relf added: "Excellent news! It will have a huge impact on the club, will allow us to train through the winter months and prepare properly for our BUCS [British Universities & Colleges Sport] games throughout the year."
MJ Church Ambassador and women's rugby player Sydney Gregson said: "This is great news! With the positive increase of sports clubs members it means there is less space to train. An all weather pitch will be incredibly useful. It will allow more sessions to take place and hopefully mean less training will be cancelled throughout the winter months."