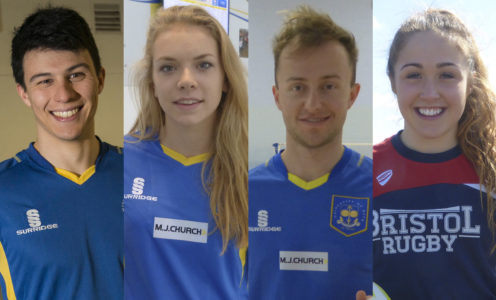 Four MJ Church Ambassadors who are graduating from the University of Bath this week have thanked Team Bath's partners for their support as they successfully combined study and sport.
Olympic modern pentathlon athlete Joe Choong, Commonwealth swimming medallist Anna Hopkin, English badminton champion Alex Lane and Bristol Rugby Ladies player Sydney Gregson have all completed their studies and will receive their degrees during ceremonies this week.
They have been assisted along the way by a bursary from MJ Church – the Marshfield-based Civil Engineering, Plant, Transport and Waste Management Contractor – which has helped cover the financial costs of their competition and training, allowing them more time to focus on their studies.
Choong, who graduated with a 2.1 in Mathematics and has been selected for this month's European Championships in Hungary, said: "The support of both MJ Church and the University of Bath has been fantastic over the past few years and been a massive help.
"Financial backing is really important in a sport like modern pentathlon as we have so much kit for the different disciplines. Making athlete appearances with MJ Church has also been good practice for later life as it gives me confidence to speak in front of a crowd."
Choong will remain at the University of Bath as he trains with Pentathlon GB towards the Tokyo 2020 Olympic Games.
Badminton player Lane, who is coached by Pete Bush, will also keep training at the University after graduating from his Sports Performance course with a 2.1.
"The next chapter will see me work from here but start to travel around Europe and play in the international events that will give me a world ranking in the lead up to the Olympics," he said.
"As badminton is now a non-funded sport, this is where the support of MJ Church comes in as they help me finance these tournaments and compete to reach the level I want to be at. They have been incredibly supportive."
Rugby player Gregson, who is also graduating with a 2.1 in Sports Performance, was one of the original group of MJ Church Ambassadors and has been proud to represent the company for the past two years.
"The support from MJ Church has helped me massively in terms of my sporting and my academic career," she said. "It's taken a lot of pressure off, particularly the financial pressures of being a student-athlete, and allowed me to focus my time on my sport and my degree.
"I am really excited to be graduating from Bath with a 2.1 but also very sad to be leaving this beautiful city and fantastic university."
Hopkin, who is coached by Mark Skimming, is graduating in Sports & Exercise Science. The former British 50m freestyle champion helped England win 4x100m freestyle relay bronze at the Gold Coast 2018 Commonwealth Games and she is currently training towards representing Britain at next month's European Championships in Glasgow.
A spokesperson for MJ Church said: "As a company that invests in the future generations it's been great to see the achievements of ambassadors both sporting and academic.
"We would like to wish them all good luck with whatever they are doing, either staying with Team Bath or moving onto pastures new, and thank them for their support at our events and also inspiring one or two future athletes from staff families."
MJ Church, a dynamic business offering a diverse range of services from skip hire and waste collection to multi million-pound civil engineering contracts, became a partner of Team Bath in 2016, supporting sport from grass-roots level through to high performance.
The Ambassadors help to promote that partnership by attending events and inspiring the company's staff and their families, as well as customers and stakeholders, to participate in sport and healthy activities.