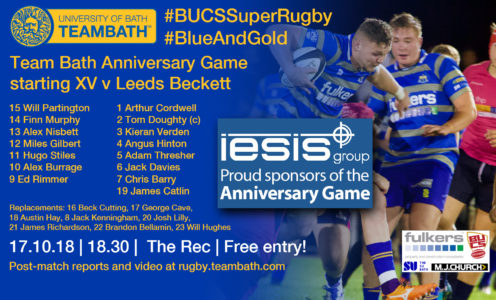 The biggest Blue & Gold night of the year is finally here as Team Bath men's 1st XV head to The Rec for the annual Anniversary Game in front of a four-figure crowd at Bath Rugby's world-famous city-centre home.
Wednesday's BUCS Super Rugby match against Leeds Beckett is once again being sponsored by Iesis Group and is set to attract a big audience, with nearly 3,000 free tickets already snapped up.
Don't worry if you haven't got your ticket yet – free tickets will be available on the gates, which open at 5.30pm ahead of the 6.30pm kick-off. All are welcome to attend, from students, staff and graduates to members of the public and rugby supporters keen to enjoy top-level student rugby.
This is the third year running that the Anniversary Game – first played in 2016 to mark the 50th anniversary of the University of Bath receiving Royal Charter status – will have been staged at The Rec and Team Bath will be hoping for a similar outcome to the first one, when they beat Leeds Beckett in front of more than 5,000 fans.
Tom Doughty, who will captain Team Bath tonight, said: "We're really looking forward to the Anniversary Game – those games in front of big crowds at The Rec with your mates are the ones you remember for a lifetime. We can't wait to get out there."
Head of Rugby Aaron James added: "It's always a great spectacle down at The Rec and we have a strong relationship with Bath Rugby. Thanks to Iesis Group for sponsoring the game – hopefully we can get a large crowd and a good win."
Team Bath make just one change to the XV that started last week's entertaining 41-36 victory over Nottingham Trent, with Miles Gilbert returning at centre. England U20 hooker Beck Cutting is set for his first appearance of the season after being named among the replacements.
Don't forget, entry is free to tonight's match – don't miss it.
Team Bath starting XV: 15 Will Partington, 14 Finn Murphy, 13 Alex Nisbett, 12 Miles Gilbert, 11 Hugo Stiles, 10 Alex Burrage, 9 Ed Rimmer; 1 Arthur Cordwell, 2 Tom Doughty (c), 3 Kieran Verden, 4 Angus Hinton, 5 Adam Thresher, 6 Jack Davies, 7 Chris Barry, 8 James Catlin. Replacements: 16 Beck Cutting, 17 George Cave, 18 Austin Hay, 8 Jack Kenningham, 20 Josh Lilly, 21 James Richardson, 22 Brandon Bellamin, 23 Will Hughes.
Leeds Beckett starting XV: 15 Charlie Venables, 14 Chester Duff, 13 Tom Williams, 12 Ben Dixon, 11 William Lewin, 10 Steffan James, 9 Dan Grant-Adamson; 1 Ryan Eveleigh, 2 Conrad Cade, 3 Xavier Valentine, 4 John Okafor, 5 Thomas Collins, 6 Toby Francis, 7 Johan Visser, 8 Jonny Teague (c). Replacements: 16 Tobi Abemakin, 17 Samuel Theron, 18 Jide Ajayi, 19 Hayden Thompson-Green, 20 Jonathan Keh, 21 Dante Van Der Merwe, 22 Harri Collier, 23 Harry Robinson.
Referee: Anthony Woodthorpe.
Assistant referees: Oli Carey, Steve Hambley.
Fourth official: James Maby.