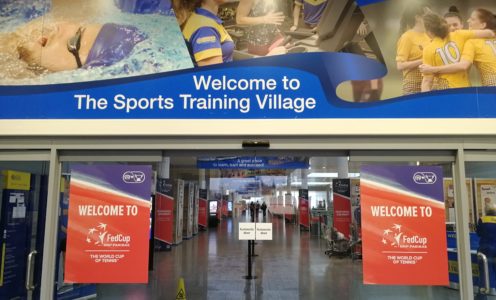 Please note that there is no dedicated parking on campus for the Fed Cup as car parks are at capacity for University use – please click here for full visitor information.
The University of Bath is hosting the Fed Cup – the equivalent to the Women's World Cup in tennis – from February 6-9, 2019.
Our Sports Training Village will be vibrant with branding and the bustle of spectators coming on site for two sessions daily to watch eight countries in action. This is a vital event for the GB team who are trying to gain promotion to the World Group and we are offering them our support at Team Bath to strive for their dreams.
The tennis hall has been converted to hold two show courts with more than 2,000 seats for each session – a ground-breaking event for the University who were chosen above other competitors by British Tennis to host the event. BT Sport are providing live coverage of the clashes which will be broadcast around the world.
Every effort will be made to subsume this additional activity into the normal daily life of the Sports Training Village, although access to some areas (the corridor to changing rooms 1-8 and the tennis balcony) will be restricted throughout for security purposes.
Inevitably, there will be pressure on car parks, especially for the daytime sessions. Car Park G is fully closed from February 1-9. To alleviate the pressure, every tennis spectator has received a communication indicating that there is no car parking on site and the University has worked with First Bus to run additional and dedicated bus facilities. These will run from the station and from Lansdown Park & Ride direct to the University on competition days.
Toilets will not be available on the upper floor of the the STV to general customers during the event and changing rooms will be much busier than usual from Monday 4th to Saturday 9th February inclusive. Some customers may wish to come changed in advance for their own sports activities and, where this option is possible – i.e. for students living on campus – to make the choice to shower and change off-site afterwards.
British Tennis is operating an additional catering outlet within the STV for tennis spectators on competition days.
We hope you will join us in wishing the GB squad well and if you wanted to take the plunge and watch some of the top players in action then tickets are still available for a limited number of sessions here: https://www.lta.org.uk/major-tennis-events/international-events/fed-cup/tickets.
For all enquiries about the event visit www.lta.org.uk.
For all enquiries about the Sports Training Village please contact us online via https://www.teambath.com/contact-us/ or call us on 01225 386339.