Professor Bernie Morley, Acting Vice Chancellor of the University of Bath, will officially open the new Team Bath Gym & Fitness Centre on Tuesday, February 26 during a free taster day open to all.
Olympic Champion Amy Williams and Rugby World Cup winner Lewis Moody will also be special guests on the day and will be leading coaching sessions for visitors in the new two-tier extension.
It will more than double the existing gym capacity at the Sports Training Village (STV) to 1,536 square metres and includes a spacious upper floor with natural light plus two dedicated studio spaces for group exercise classes, with 100 taking place every week.
As with the current multi-sport facilities at the STV, which receive 1.6million visits each year, it will be fully open to students, staff and members of the public.
The new gym and fitness centre will be officially opened at 10am by Professor Morley and visitors – including non-members (aged 16 and over) – will be able to try out the facilities for free from 11am, with classes and competitions taking place throughout a packed day of activities.
Former England Rugby captain Moody and Health & Fitness Manager Sam Holmes will be leading a circuits class in the group exercise studio from 11.30am to 12.15pm, while Vancouver 2010 skeleton gold-medallist Williams will be providing fitness instruction to small groups from 11.30am to 12.30pm – she has recently completed a personal trainer course with Team Bath Training & Development.
Other classes taking place on the day include Target Cycling in the new 22-bike spin studio and Hatton Boxing at the only venue in the area offering the course, devised by former champion Ricky Hatton.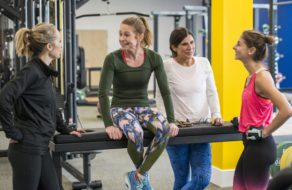 Competitions are also being run from 11am to 5pm, with visitors able to test their speed using timing gates set up on the new 20m indoor sprint track and compete in a jump test – prizes will be on offer.
Free massage sessions will also be provided by practitioners from the Team Bath Physio & Sport Science Centre on the day.
The new gym is kitted out with state-of-the-art cardio and strength equipment supplied by Matrix, with 73 stations available for use, and also includes a free weights area, lifting platforms with a solid wooden floor and a functional area featuring battle ropes, rip trainers, slam balls and more.
Stephen Baddeley, Director of Sport at the University of Bath, said: "The new Team Bath Gym & Fitness Centre will greatly enhance our already world-class, multi-sport training environment and we are delighted to offer people the chance to check it out for free during the official opening – we are sure they will be impressed by what they see."
Team Bath memberships are available on a monthly and annual basis, with the Team Bath + offer also including access to the London 2012 Legacy Swimming Pool and the tennis courts recently used to stage the international Fed Cup event, plus much more. Click here to find out more.