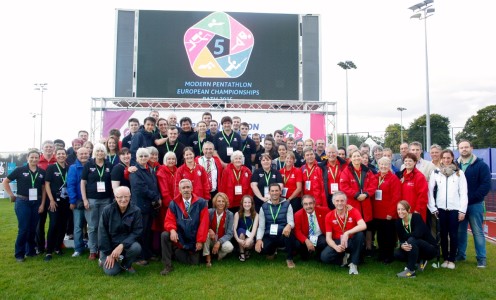 Organisers of the 2019 Modern Pentathlon European Championships, being staged at the University of Bath this summer, are calling on local people to help deliver the Tokyo 2020 Olympic qualifying event by becoming 'Gladiator Makers'.
Pentathlon GB is seeking up to 100 volunteers in diverse roles for the event – dubbed 'Gladiators Return' – including medal ceremony attendants, helping with the media on site, supporting overseas teams and helping on the field of play.
The European Championships, taking place from August 6-11, are the biggest Olympic qualifier in the sport which features the excitement of horse-riding, fencing and laser-shooting as well as the more traditional but still crucial disciplines of running and swimming.
Everything will take place at the University's world-renowned Sports Training Village, with thousands of spectators expected for the televised event. There are individual competitions as well as men's, women's and mixed relays.
Sara Heath, CEO of Pentathlon GB, said: "We are shouting out to local people first so that they are given the opportunity of signing up to join our Gladiator Makers team and savour the excitement of volunteering just like the Gamesmakers of London 2012.
"Our volunteers will not only support the GB athletes but also those we are hosting from around Europe. It's a great opportunity to experience being part of a big event, seeing behind the scenes and being up close to the action."
Local people will have until March 31 to take up the chance to be involved before the search goes nationwide next month.