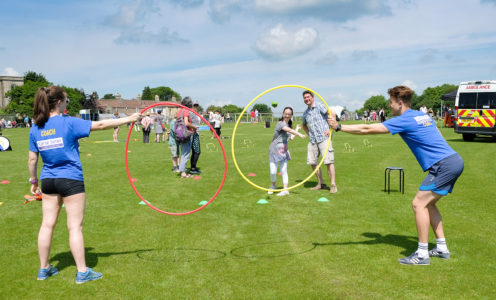 Team Bath is helping to celebrate this year's International Olympic Day through teaming up with the organisers of an inclusive sporting festival in Bath to provide everyone with the opportunity to 'Move, Learn and Discover'.
Those are the three pillars of both the Olympic Day movement and the Try Games event, which is taking place at Odd Down Sports Ground from 10am to 3pm on Sunday, June 23.
Coaches, students and athletes from Team Bath will be helping a huge range of organisations contribute to run a host of sporting events and activities that everyone can join in and are fully accessible to all. These will include a fun run, netball, tennis, frame racing, wheelchair basketball, adaptive martial arts and a laser run, providing people with the chance to try this exciting sport prior to the Modern Pentathlon European Championships being staged from August 6-11 at the University of Bath.
Team Bath staff will be benefiting from pre-event training for volunteers from Nova Sports & Coaching, a not-for-profit organisation which delivers high-quality, inclusive sport to individuals of all abilities in the Bath area.
Team Bath and Nova are among the many community partners supporting the Try Games, which is organised by Three Ways School in Bath and took place for the first time last year with great success.
Greg Sharp, Deputy Director of Sport at Team Bath, said: "We are delighted to be supporting the Try Games and working with a number of partners to create a fun and inspirational day.
"The Olympic Day values of Move, Learn and Discover are central to our mission of 'creating impact' through sport and physical activity at Team Bath, and we look forward to sharing those with the local community.
"It promises to be a great day for the whole family so make sure you come along, get involved and try out a new sport or two – there will be something for everyone."
Three Ways School is a Special Needs Academy offering a unique, stimulating learning environment to pupils with learning difficulties and disabilities aged from three to 19. All the fundraising from the Try Games will go towards sports clubs and equipment for the school.
Picture credit: Nick Cole Photography | https://nickcolephotography.co.uk