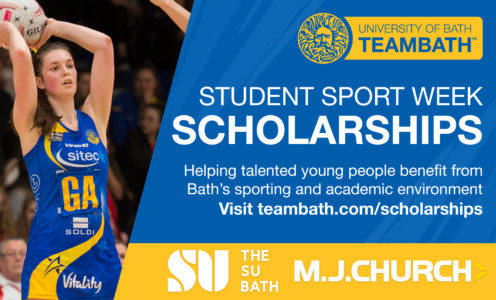 It has been a stellar year for sporting scholars at the University of Bath – and they have been keen to thank the generous alumni and benefactors supporting the scheme for the role they have played in their success.
The 2018-19 academic year saw 38 student-athletes across 15 different sports and a wide range of degree courses receive financial support that helped them juggle the twin demands of studying at one of the best universities in the country while training and competing at a top-class level.
Among the many standout achievements of scholars this year are:
Chartie Curtis – England Netball U19 captain.
Tom Dean – European Swimming Champion.
Sophie Drakeford-Lewis – 2019 Netball Superleague Young Player of the Year.
Sarah Jackson – World Youth Windsurfing Champion.
Hannah Jones – Surrey Women's County Cricket Club captain.
Myles Pillage – Modern Pentathlon World Championships men's team silver.
Emma Stacey – World and European Clay Pigeon Shooting Champion.
Hugo Stiles – Rugby 7s gold with Hong Kong at the Asian Games.
Jenny Nesbitt – British Cross-Country Champion.
Tim Nurse – GB Hockey U21 captain and Sultan of Johor Cup winner.
There have also been a host of national and international appearances and medals, plus team and individual success in BUCS competition while proudly wearing the Blue & Gold of Bath.
Scholarships are supported by alumni and friends of the University who are passionate about giving talented young people the opportunity to benefit from Bath's sporting and academic environment.
Messages of thanks from our scholars
Scholar testimonials
Athlete Jenny Nesbitt, who graduates in Sport & Social Sciences this summer, helped Great Britain to their best team result in 15 years at the World Cross-Country Championships having won the British title and is all set to compete at her second World University Games in Italy next month.
She has been supported by a Trendell Scholarship during her three years at Bath and said: "The financial support and having access to all the world-class facilities at the Sports Training Village has played a pivotal part in my development from a promising junior to achieving places in senior Great Britain teams.
"I want to say a big thank you to the donors who have supported me, their kindness and generosity has really helped me set big goals for the future."
Also graduating this summer is Politics & International Relations student Emma Stacey, a World and European Champion in clay pigeon shooting whose career has gone from strength to strength with the support of a Santander Scholarship.
"That support has allowed me to train significantly more than ever before and gain crucial international experience," she said. "This all came to fruition last year when I was part of the winning teams at both the World and European Championships, achieving two of my lifetime goals.
"To do this while here at Bath and with the support of Santander was fantastic, it really rounded out my uni experience."
A first-year student seeing the benefit of scholarship is swimmer Tom Dean, who smashed the British 200m individual medley age-group record on his way to booking a place at this summer's World Championships.
"The Bill Whiteley Scholarship has allowed me to fund competitions, travel and accommodation, and further my training by going on camps abroad," said the Mechanical Engineering student.
"Very few places offer such a high-level combination of athletic and academic performance as Bath."
Another student-athlete grateful for university support during his first year is 400m hurdler Alistair Chalmers, who set a new British U20 record when he reached the World Junior Championships final.
"The King Scholarship has helped in a number of ways, from treatment to warm-weather camps – the support has been remarkable," said the Sports Performance student, younger brother of University of Bath alumnus and GB international Cameron – a former scholar himself.
This year's scholars are the latest among hundreds of beneficiaries since Bath became the first UK university to introduce sporting scholarships back in 1976. Notable scholars include Olympic medalists Michael Jamieson (swimming), Samantha Murray (modern pentathlon) and Dom Parsons (skeleton) plus Commonwealth champion Kadeen Corbin (netball).