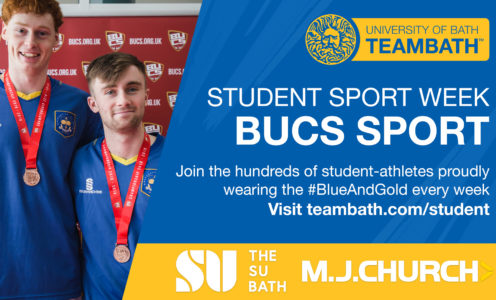 Wearing the famous Blue & Gold colours of the University of Bath in BUCS competition is among the proudest moments for hundreds of student-athletes every academic year.
British Universities & Colleges Sport is at the heart of the University's student performance programme, with around 1,500 students representing Bath in regional and national competition against other higher-education institutions across a range of sports.
The majority of matches take place on Wednesday afternoons, when there is a real buzz around the University's Sports Training Village as fixtures take place right across the facilities – from water polo in the swimming pool to badminton and netball in the sports hall, tennis on the indoor courts to hockey on the water-based pitches.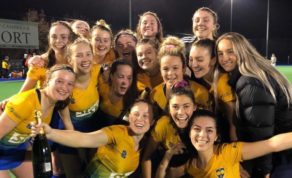 The 2018-19 season saw University of Bath teams win 18 BUCS league titles, five of them by the badminton club whose men's and women's 1st teams both topped their respective Premier South tables. The hockey club also enjoyed an excellent season, with the women's 1st team winning the South A title for the first time in a decade.
Social Sciences student Anna Reynolds, who was part of that successful team, said: "I really love playing BUCS hockey, we have such a tight-knit team. The matches against other universities are always really competitive and the whole club comes down to watch on a Wednesday, so the atmosphere is great."
There were three other league successes and two Western Conference Cup triumphs for the hockey club, while other regional titles came in futsal, netball, rugby union, squash, tennis and ultimate frisbee.
Many more teams achieved their highest-ever league placings, including the men's rugby 1st XV who finished a fantastic third overall in the televised BUCS Super Rugby league – just four points off top spot.
Three teams also picked up Trophy silver medals in badminton, football and tennis at BUCS Big Wednesday, the culmination of the national team sport league programme.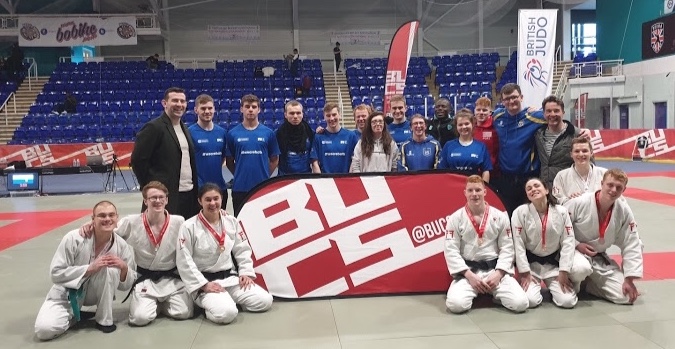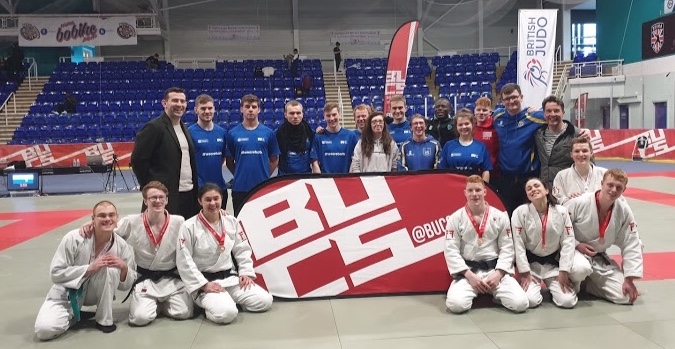 There was plenty of individual success on the BUCS stage too including 25 medals, seven of them gold, across six different sports – athletics, badminton, fencing, judo, karate and swimming – at the 2019 BUCS Nationals, where GB international Tom Dean set two new Championship records in the pool.
Chemistry student Ben Jones – supported by a Buchan Jones Sports Scholarship – enjoyed medal success at the BUCS Tennis Doubles Championships, where he won bronze with Louis Newman, and is a regular for the men's 1sts.
"Tennis is normally a lonely sport, so being able to compete for the University of Bath in BUCS team matches is a very different but exciting experience for me," he said.
"Competing for a team brings with it new challenges, new responsibilities, different emotions and an incredible atmosphere. The vibe around the Sports Training Village on BUCS Wednesdays is amazing and it's always the day of the week I look forward to most!
"I love every second that I am on court representing Bath with my team-mates and I enjoy sharing the highs and lows of team sport with all of them."