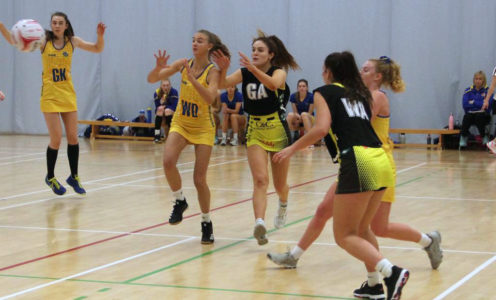 Team Bath Netball's NPL teams enjoyed good support when they took on Manchester Thunder in their first home matches of the 2019-20 season on Saturday.
The U19s got off to a slow start in the first game of a busy afternoon at the Team Bath Arena and Thunder were able to build up a substantial lead by the end of the first quarter.
However, while they couldn't claw back the deficit, the Blue & Gold learnt from their mistakes and upped their game, only losing the second half by two goals as Thunder recorded a 56-39 victory.
Centre Emily Becconsall was the coaches' player of the match after completing an exam at 7.30am before heading to the game, where she produced turnover after turnover even after dislocating her finger.
Millie Pearce injected some pace into proceedings and kept a great intensity throughout, while Molly Hole had a cracking game after switching from GS to GK and coming out with some amazing flying intercepts.
Head Coach Lois Rideout said: "Lots of learning came out of the game and the team are now busy prepping to face London Pulse on January 25."
Team Bath U19 starting 7: GK Georgia Ford, GD Isla May, WD Ellie Jupp, C Emily Becconsall (c), WA Millie Pearce, GA Rosie Bartlett, GS Molly Hole. Replacements: Meg Conabeare, Sophie Ewin, Lily Jones, India Monllor, Mia Regan.
A few pictures from @TeamBathNetball U19s against @PathwayThunder today in the album: https://t.co/th5Qa3URg1 pic.twitter.com/KF13NNH1DV

— Karen May (@KarenMay13) January 11, 2020
Next up was the U21 showdown which saw Team Bath and Thunder evenly matched during the first half before the visitors were able to pull away to record a 62-42 victory.
A tight Thunder defence restricted Team Bath's attack but there were some good passages of play from the hosts, with Hannah Passmore demonstrating experience in the circle as she took some great feeds from Anna Lebe and impressive centre Elisha New.
Co-captain Caitlin Rowley was a vocal leader at the other end of the court, turning over ball in defence with Maya Meredith and Jo Leslie.
Team Bath U21 starting 7: GK Jo Leslie, GD Caitlin Rowley (cc), WD Maya Meredith, C Elisha New, WA Issy Highstead, GA Georgia Jenkins, GS Hannah Passmore (cc). Replacement: A Baker, G Dawson, E Lacy, A Lebe, E Payne.
Some photos from @TeamBathNetball U21s against @PathwayThunder U21s here: https://t.co/GgKldPT4V3 pic.twitter.com/G2qZ18uh8V

— Karen May (@KarenMay13) January 11, 2020
Both the U19 and U21 teams will next be in action at the University of East London on Saturday, January 25 when they face a double header against London Pulse.