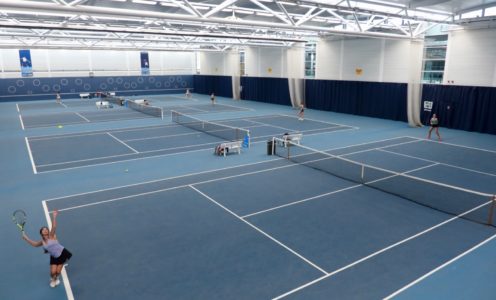 The LTA British Tour returns to the Team Bath Tennis indoor courts this week, with tournament director Chris Matthews saying the entry list is of the highest standard for the past decade. 
A host of world-ranked players are competing for the £1,500 winners' prize in the men's and women's Grade 1 Premier competition, where matches are played in a best of three sets format and entry is free for spectators.
The top seeds in the men's and women's draw, Luke Johnson and Samantha Murray Sharan, are both coached at the University of Bath Sports Training Village by Ian MacDonald, with world number 213 Murray Sharan having recently competed in the qualifying stages for the Australian Open.
She begins this tournament on Wednesday at 1.45pm against Kristina Paskauskas or Tamara Malazonia.
"I've been overseeing the British Tour events here for ten years now and this is probably the highest quality field and best quality play we've had," said Matthews.
"The standard in qualifying has been exceptionally high because the main draw is high. Those that couldn't get into the main draw have been pushed into qualifying so it bolsters the standard.
"At this level the competition is very close. Just because you're a seed doesn't mean you're guaranteed to progress, so it will be a closely contested week."
The winner of each single's competition will receive a wildcard into the main draw of an International Tennis Federation event, with the runner-up guaranteed a place in qualifying.
The British Tour 2020 provides a circuit of tournaments designed to give up-and-coming players the opportunity to gain experience in their quest to become professional tennis players, as well as provide competition for professional players in between competing in professional events at home and abroad.
The men's draw contains eight world-ranked players with Johnson, who reached the first round of the men's doubles at Wimbledon last year, currently 763rd. He faces the winner of Jack Gibbens and Harry Meehan at 9am on Wednesday.
Matches will be continuing throughout the week at the Sports Training Village, with the finals taking place on Saturday.
Matthews said: "If you come along to the STV and watch from the balcony, you'll see just how good the standard of tennis is."