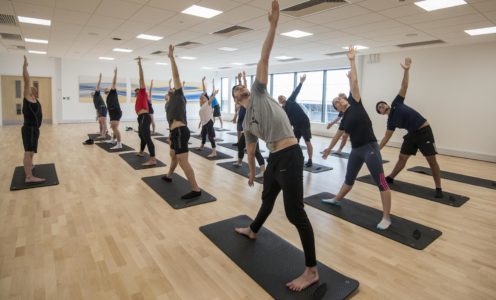 Free fitness classes and workshops, the chance to work out with celebrity trainers and fun prize challenges are among the activities on offer during the first-ever Team Bath Fitness Fiesta.
Taking place from March 2-8 at the University of Bath Sports Training Village, the packed programme of events will allow people of all fitness levels to immerse themselves in a week designed to be fun, informative and free to access.
Globally-renowned master trainer Matt Gleed will be leading classes – designed for all levels from beginners to fitness experts – in the Team Bath Gym & Fitness Centre, demonstrating how to get the most out of the Matrix Fitness equipment and how to integrate functional and high-intensity interval training into a workout.
There will also be cycling 'power hours', women-only weightlifting sessions and upper-floor gym takeovers, utilising all of the available equipment in one intense workout, as well as military bootcamp challenges using a range of indoor and outdoor facilities at the Sports Training Village.
The nearly 100 regular exercise classes run by Team Bath's expert trainers each week – including yoga, pilates and TRX – will also be free to access and there will be prize challenges on the gym floor throughout the week.
As well as the action, the Fitness Fiesta will also feature workshops and presentations by Team Bath staff providing an informative insight into concussion injuries, managing young athletes and dispelling social media myths about fitness.