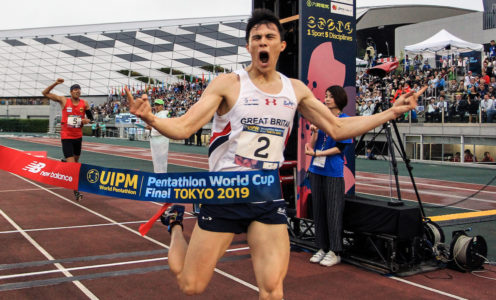 Pentathlon GB athletes based at the University of Bath will have until mid-June of 2021 to set the qualification standard for the rescheduled Tokyo 2020 Olympic Games.
Joe Choong, Jamie Cooke and Kate French – who had already met the qualification criteria through their performances in 2019 – have also been told they remain eligible for Team GB selection under the new guidelines set out by the UIPM, modern pentathlon's international governing body.
Under the changes to the qualification system, the 2020 World Championships – should they go ahead as scheduled – will no longer have any bearing on the Olympic qualification process.
Instead, the UIPM 2021 Pentathlon World Championships in Minsk – taking place from June 7-13 2021 – will be the only remaining competition where automatic qualification places can be secured, although ranking points will also be available at 2021 World Cup competitions.
A further six quota places will then be allocated via the UIPM Olympic World Ranking List, based on the rankings as of June 14, 2021. Jo Muir, a University of Bath Sports Performance graduate, is currently number one in the women's rankings.
The UIPM also confirmed that all qualifying places already secured will be protected, which is good news for Choong – winner of the World Cup Final in 2019 – plus Cooke and French, who set the standard by winning gold and silver respectively when the University of Bath Sports Training Village hosted the 2019 European Championships.
Pentathlon GB Performance Director Jan Bartu said: "The updated Tokyo Olympic Games Qualification System is good news for British Modern Pentathlon. All qualification places and ranking points achieved so far will be carried forward to the 2021 season. This is the right decision by the UIPM – it protects integrity of the Qualification System and fairness to the athletes in quest to fulfil their Olympic dream."