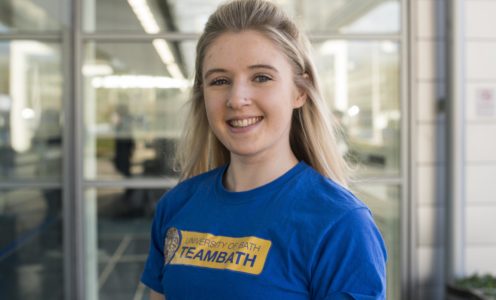 It will be a Muller British Athletics Championships unlike any other but University of Bath sporting scholar Lauren Williams can't wait to get out on the track at the Manchester Regional Arena this weekend.
Originally scheduled to take place in June and double as the GB Olympic Trials for Tokyo 2020, the Championships – the first major outdoor athletics meeting of the year – will now be held behind closed doors on Friday and Saturday (September 4&5), televised on BBC, and feature a limited number of entrants and heats.
Among the competitors in the women's 400m hurdles will be Welsh international Williams, a Management with Marketing student who is supported by a Santander Sporting Scholarship.
Her only other race over hurdles this year saw Williams cross the line in 58.49, her second-fastest time ever and her quickest opener to a season yet, so she is excited to see what she can do in Manchester this weekend.
"I am seeing it as a massive opportunity," she said. "This year's championships are by invite only, based on last year's results, and there are 12 of us in the women's hurdles, so for athletes like myself who are still in age-group ranks there is more chance to get into the final.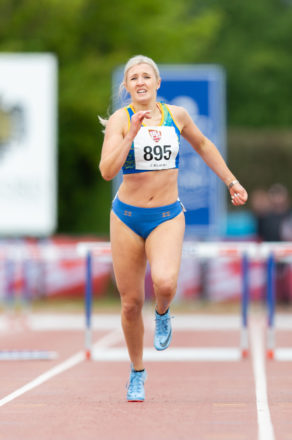 "I've been back in training since the end of July and only had about six hurdles sessions since then but I'm feeling in good shape. I've ran a couple of 400m flat races and I was really chuffed with my season opener over hurdles, that was a big confidence boost ahead of the British Champs.
"There is a limited programme at the moment and there are different competition rules in England and Wales, in terms of how many people can compete on track at once. Events with equipment, like the hurdles, also have additional rules like officials cleaning the equipment between each race. It's not athletics as we know it but I am just grateful we are back racing at all."
Williams, who is due to start the third year of her studies in Bath later this month, went back to her family home in Wales during lockdown and kept in shape with the help of her local sports clubs.
"It took a couple of weeks to adjust when training and uni stopped in March but when it became clear how long we would be out of action for, I started doing some running on the local cricket pitch," she said. "My local rugby club also very kindly lent me some weights, so I was able to set up a little home gym.
"There is a lot to be said about going back to basics with training, particularly running, but there is no substitute for the technical work and it's nice to be back doing something more structured.
"It has been such a short season but I am in good shape and I want to capitalise on that and set myself up for next year, which will be my last as an U23 athlete. My aim next summer is to qualify for the European U23 Championships in Berlin."
Also competing in Manchester this weekend is Sports Performance student Alastair Chalmers, a King Sporting Scholar who will line up in the men's 400m hurdles, while Health & Wellbeing Masters student James Gladman – supported by the Team Bath Dual Career programme – will race in the 200m.
Danny Talbot, the 2017 4x100m relay World Champion, will continue his return from long-term injury by competing in the 100m and fellow Sports Performance graduate David King will be looking to defend his 110m hurdles title.