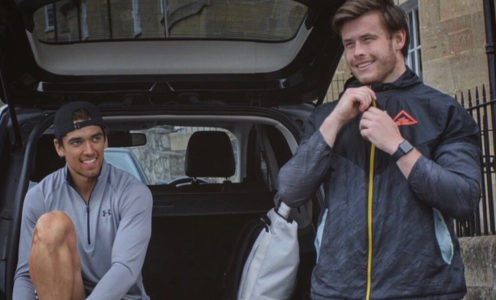 Two University of Bath rugby players are swapping their boots for running shoes as they embark on an epic 35-day, 2,500km run along the west coast of Ireland to raise money for mental health charities.
Chris Barry and Jason Adam-Hein have been best mates since meeting at the University in 2016, where they were both part of the student rugby club.
Together they have set up a mental health support group called Shoulder 2 Shoulder and are training hard towards their first fundraising challenge, starting on September 13 – the Coast2Coast Ultra-Run through the Wild Atlantic Way, the spectacular coastal route of their native Ireland.
They will run up to 75km each day, with both admitting that is well beyond anything they did during their rugby careers.
Forward Chris, who is studying a Masters in Management and has been a BUCS Super Rugby regular for Team Bath men's 1st XV for the past four years, said: "What makes this challenge so unique and exciting for me is that before my training for Coast2Coast, the furthest I have ever run is a half-marathon.
"This is obviously daunting and extremely scary but I want to push my body to the physical and mental limit. Running for Mental Health Ireland and Mental Health UK is definitely a motivating factor for me.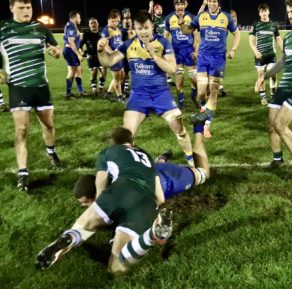 "This is a personal challenge for both of us, not only the physical aspect of the challenge but speaking openly about our own mental health. It is important that we show others that speaking about mental health issues is one of the first steps to overcoming them."
Jason, who graduated from Bath in 2018 and now works in financial services in Manchester, saw his student-rugby career blighted by injury and says that made him more aware of his own mental health and how it can be affected.
"Mental health is only an 'issue' when you don't know it's there," he said. "Once you accept and acknowledge it, you'll be surprised how powerful it can be in your favour and I want to prove that in September.
"My anxiety, when out of control, severely affected my breathing which meant that running as little as 50m was a struggle. Playing rugby began to seem impossible and before May, I hadn't actually ever run more than 5km continuously. That's why this run excites me – it excites me because it terrifies me."
To find out more about Shoulder 2 Shoulder or sponsor Chris and Jason on their Coast2Coast challenge, visit https://www.shoulder2shouldermentalhealth.com/