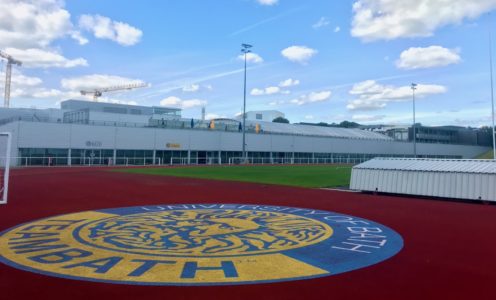 Following the Government's updated Coronavirus guidelines, the Team Bath Sports Training Village is closed to the public (including community sports clubs) but it is our intention to reopen at 6am on Thursday, December 3, subject to prevailing regulations.
Staying active
We have moved some of the fitness classes that we had planned at the STV on Thursday, Friday and Saturday (5-7 November) online and they will be streamed via Zoom.
For more information about how to book and then access the classes, visit our exercise class page (click here). There will be more classes for members to access throughout the lockdown period and we will be in touch via email with further details.
University of Bath students and staff can also continue to access the free online wellbeing and fitness sessions every week – click here to find out more.
Memberships
If you pay an annual fee for your membership, we will simply roll forward your renewal date by the appropriate period of closure.
If you are a student member, your membership will be adjusted or refunded at the end of its current term to reflect the length of the closure. Therefore, you do not need to take any action.
If you pay us by monthly Direct Debit and your November payment has already been collected then you will automatically be credited for December 2020 and no additional collections will be made in that month. Direct Debit collections will then recommence on January 4 2021 at your regular collection figure.
Please note that should the lockdown of our facility closure be extended further, your account here will remain on freeze and your credit for November 2020 and the next Direct Debit collection will be rolled forward accordingly.
If you wish to cancel your membership, all you need to do is cancel your Direct Debit with your bank at least four days before the next payment due date. Please note, though, that if you wish to rejoin at a later date you may be charged a 'joining fee'.
Making contact
A large number of our staff will be on furlough in the coming month so please bear with us during this time.  As always, if you have any queries, please contact us as follows and we will do our best to answer promptly (at least within three working days):