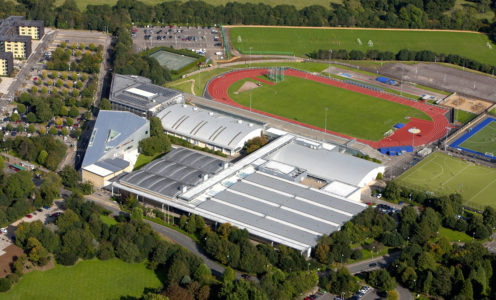 If you are considering applying to study at the University of Bath or becoming a Team Bath member in the new year, you can take a look around our £35million Sports Training Village facilities from the comfort of your own home with the newly-updated virtual campus tour.
All three floors of the Team Bath Gym & Fitness Centre, plus the two exercise studios, can be explored on the 360-degree tour along with the sports hall, swimming pool, judo dojo, fencing salle, shooting range, hydrotherapy pool and changing rooms.
Our athletics facilities and tennis courts – both of which are available indoor and outdoor – can also be viewed, along with the football, hockey, rugby and training pitches, and the beach volleyball courts.
To view the tour, either click here to open it in a new window or navigate in the window below. Click and drag to look around or click on the flashing chevrons to move forwards and backwards. To move to a different part of the building, such as the swimming pool or hockey pitches, click on the three lines in the top-left corner to open the drop-down menu, then select 'Sports Training Village' and either indoor or outdoor to see the extensive list of options.
---