Christmas is here but Team Bath Netball's players will continue to train hard over the festive period as they maximise their time together in the build-up to the 2021 Vitality Superleague season.
The Blue & Gold – sponsored by Principal Partners Haines Watts alongside Team Bath overall sponsor Rengen Developments – have traditionally taken a few days off between Christmas and New Year.
However, with England squad members only returning to club training at the start of December and an international series against Jamaica coming up in January before the season begins in February, players and coaches will remain hard at work in the Team Bath Sports Training Village.
Serena Guthrie, who won her 100th England cap during October's tour of New Zealand, said: "Training over Christmas is an additional commitment that we are making as a whole team, not just the players but management, staff and coaches as well. We'll be watching how much turkey and chocolate we eat over Christmas but hey, we've got a season to prepare for and we didn't have one last year.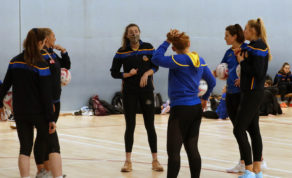 "It's nice to have the whole squad together and big kudos to Kim [Borger] for coming over from Australia at this time of year, it's a big commitment but now we can get to work as a group and really start trying to find out what we can do this season.
"We have such a great team this year and it is so exciting to be a part of it. You can feel a really nice energy within the unit."
Guthrie has today been named in the 15-strong England squad to face Jamaica along with Layla Guscoth, Sophie Drakeford-Lewis, Imogen Allison and Summer Artman, who is a training partner.
Drakeford-Lewis said: "It's been great to be back with the girls these past few weeks, they have been training really hard during the off season so it's been brilliant to see how much work they have put in.
"This three-week block is really important and we have to make the most of the time we have together as one group. We are in such a privileged position to be able to continue to train and play, and we have to grab every opportunity with both hands."
Imogen Allison, who won her first Roses cap on the New Zealand tour, said: "I feel like we've all really brought it on court during training and the pre-season games, the atmosphere has been great and we're all really loving being back together.
"It's really important that we really push forward as a team this month, grow and build our connections, if we want to come out firing in February."
Team Bath Netball is supported by its Principal Partner, chartered accountants Haines Watts, who are also a pathway partner, and by Rengen Developments and Centurion Chartered Financial Planners. O'Neills are Team Bath's official kit supplier.