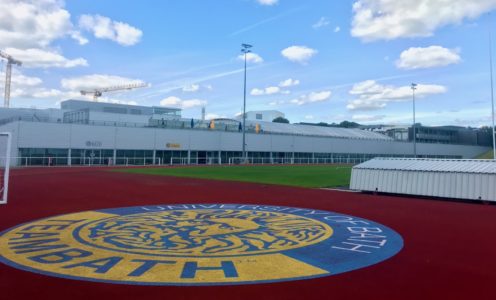 Many customers will already be aware that from 00.01 on Thursday 31 December, BANES moves into the Tier 3 level of Coronavirus guidelines.  This means that whilst the Team Bath Sports Training Village can remain open, there are some new restrictions and customers should not travel from another area into BANES for sport* or exercise.
Though U18s taking part in organised sport are exempt from this travel restriction, we would ask that junior members do not travel from a higher tier into BANES to join club activity.
We would request that all customers continue to follow the Covid-signage and guidelines on site with everyone's safety in mind especially in light of recent increases in Covid cases and the emergence of a new variant.
We will soon re-energise our virtual fitness programme (we will publicise details on our website from early January onwards of new timetables) for those customers who wish to look after their fitness but who, understandably, may not wish to visit the Sports Training Village at this time.
Meanwhile for those wishing to continue to visit the Sports Training Village, these are the categories of exercise and sport that can continue, under Tier 3 guidelines, if everyone adheres to the Coronavirus protocols on site:
Indoors
 The gym will remain open for individual exercise – antibacterial spray is available and should be used to wipe down all equipment that customers touch before and after use and customers should keep to the marked-out zones for training.
The swimming pool will remain open and individual adults can book to swim in the swim-fit lanes – we will continue to implement the Covid-compliance protocols around the pool-side and in the changing rooms.
Organised group activity – such as community clubs (including swimming) – can continue for U18s.  Members of the same household can exercise together indoors – e.g. student badminton for members of the same kitchen group or household.
It will not be possible for adults to meet in groups outside their household and exercise or play sport together indoors. This applies to community clubs. We also cannot continue any indoor group exercise or classes until the guidelines change.
Outdoors
Organised sport and physical activity – e.g. club sessions –  can continue outdoors for U18s and adults.  Groups of up to six adults who are not from the same household can exercise outdoors together if social distancing can be maintained – e.g. outdoor tennis.
We will also be able to continue outdoor personal training for individual customers and small groups of up to five.  We will soon publish details of a timetable for January 2021.
If you would like to know the guidelines that apply specifically to your sport, please visit this area of the government website to find out more:
https://www.gov.uk/government/publications/coronavirus-covid-19-guidance-on-phased-return-of-sport-and-recreation
 *NB – Elite Sport
Separate government guidelines apply to elite sports groups who use our site and athletes and coaches should refer their National Governing Body for continuing guidance.