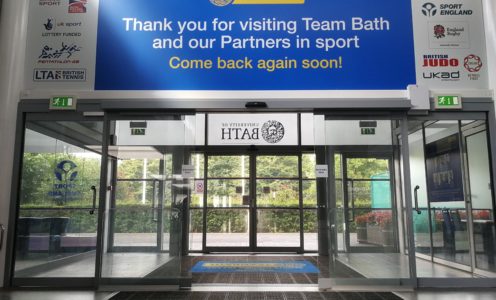 Following the latest Government announcement, the Team Bath Sports Training Village will be generally closed until further notice due to the national lockdown restrictions.
Helping you stay active
We will be running an interactive and motivational Team Bath Virtual Fitness timetable on Zoom, starting from Monday, January 11. This will be free of charge to all existing members, as well as University of Bath students and staff, and there will be a pay-as-you-go option for non-members. Further information will be available on our exercise classes page – click here to view.
We can also continue to offer one-to-one outdoor personal training sessions to customers from the local area on St John's Field, the area of playing fields on the right-hand side of the main entrance road onto the University of Bath campus. These sessions will be socially-distanced but fun and warming in the cold weather – click here to find out more.
Membership details
Regular payments have been frozen and members will not be charged while the facilities are closed. If your January payment has already been collected, we will credit your account for this period once we reopen. For annual membership payers, we will simply roll forward your renewal dates by the appropriate period of closure. Student memberships will be adjusted at the end of Semester 2 to reflect the length of closures across the academic year.  Therefore, you do not need to take any action right now.
If, however, you wish to cancel your Direct Debit account with us, all you need to do is cancel your Direct Debit with your bank at least four days before the next payment due date. Please note, if you wish to rejoin at a later date you may be charged a joining fee.
Making contact
Many of our staff are currently on furlough so please bear with us during this time. As always, if you have any queries, please contact us as follows and we will do our best to answer promptly (at least within three working days):
We hope that you are able to stay safe and well during this fresh lockdown period. As soon as we have an update on when we can reopen we will share this with you.