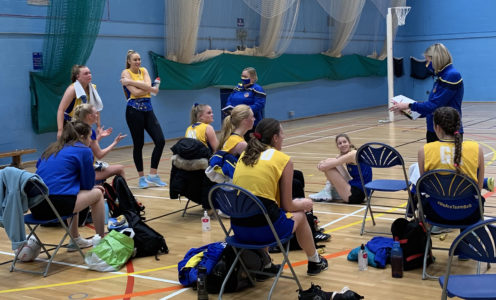 Superleague players and England Netball Roses Academy squad members are among the 40 rising Team Bath Netball stars named in the U21 and U19 Netball Performance League squads for 2021.
Shooter Hannah Passmore – a University of Bath Criminology student who is supported by a Buchan Jones Sporting Scholarship – will once again combine her Superleague duties for the Blue & Gold with representing the U21s, who she co-captained during the 2020 season.
She is one of five returning players from last season's squad along with Amelia Baker, Issy Highsted, Joanna Leslie and Rachael Fee, who was also part of Team Bath's Superleague set-up in 2020.
Also selected are University of Bath students Steph Marsden, a former Surrey Storm U19 NPL player and Santander Scholar, and twins Jasmine and Jemma Nightingale, who have previously represented Saracens Mavericks in NPL competition.
Molly Hole, who skippered England U17s to the Netball Europe title last year, will co-captain the U21s along with Highsted. Kemi Afolayan, Fee and Ellen Morgan are also part of the leadership group.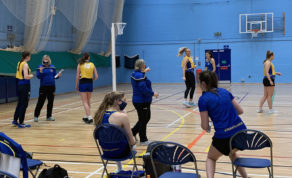 Nikki Lloyd, U21 Head Coach, said: "I am really excited & looking forward to the journey ahead with this new, young and diverse squad. We are at the beginning of a new U21 cycle, and the capacity and potential of the group is very exciting.
"Retaining members from the curtailed 2019-20 season, we have also added a diverse group of individuals new to the Blue & Gold from varied backgrounds.
"The group have been working very hard and have adapted well to the new way of training and Covid protocols. We all feel very grateful and privileged to have the opportunity to represent the Blue & Gold and play the game."
Hole is one of eight Blue & Gold players selected for the 2021 England Netball Roses Academy long squad and the other seven – Giselle Burnett, Sophie Hamilton, Daisy Harrison, Lily Jones, Isla May, Charlotte Steer and Bella Valeur-Adu – are all named in an exciting Team Bath U19 NPL squad.
Rosie Bartlett, an England U19 player during the 2019-20 season, makes a dynamic return to Team Bath and will captain the U19 side this season. She will be supported by vice-captain George Ford and a leadership team of Fabienne Bull, Jones and May.
Natalie Roddy, Team Bath Netball Academy Head Coach and U19 Lead Coach, said: "This is an exciting group of athletes with a blend of both experience and new talent. The potential this season and into the future is huge.
"I am looking forward to working with Anya Le Monnier, a Team Bath Superleague training partner and the U19 Assistant Coach, to see what we can achieve."
All 20 members of the U19 squad train with the Team Bath Academy Development Centre talent-development network based across the South West of England and supported by Haines Watts, Team Bath's principal partner.
"The players, coaches, support staff and volunteers all recognise what a privilege it is to be able to play in such challenging circumstances," Roddy added. "They have adapted so well to all of the new protocols and are embracing every opportunity. This will be a season like no other but one that I hope will deliver great learning opportunities on many levels."
2021 NPL squads
Team Bath Netball U21s: Kemi Afolayan, Amelia Baker, Emily Becconsall, Megan Conabeare, Rhian Evans, Rachael Fee, Lauren Francis, Issy Highsted, Molly Hole, Kaitlin Lawrence, Joanna Leslie, Carys Llewellyn, Steph Marsden, Yasmin Moorehead, Ellen Morgan, Jasmine Nightingale, Jemma Nightingale, Hannah Passmore, Wiktoria Rejniak, Nia Seren Evans.
Head coach: Nikki Lloyd. Assistant coach: Jen Berry. Team manager: Roni Peck.
Team Bath Netball U19s: Rosie Bartlett, Fabienne Bull, Giselle Burnett, Isabelle Claxton, Daisy Collett, George Ford, Ellie Gabriel, Sophie Hamilton, Daisy Harrison, Liberty Hartley, Amaya Herold, Sophie Jackson, Lily Jones, Isla May, Mia Regan, Effie Robinson, Catrin Roy, Charlotte Steer, Bella Valeur-Adu, Ella Williams.
Head coach: Natalie Roddy. Assistant coach: Anya Le Monnier. Team manager: Vicky Carnall.