Team Bath Clean Sport Week is moving online this February with a series of fun activities, webinars and giveaways designed to raise awareness of our ongoing commitment to doping-free sport.
Athletes, coaches and support staff based at the Sports Training Village – including Winter Olympic bobsleigh medallist Bruce Tasker and judoka Tom Reed – will be sharing their thoughts on the importance of clean sport.
There will be an interactive webinar with Team Bath lead nutritionist Fiona Lithander and we will also be sharing healthy recipes that provide a natural energy boost as part of a holistic approach to clean sport, while there will also be chance to win a hoodie in our prize giveaway.
The week of activities, which runs from February 8-12, are part of Team Bath's efforts to provide students, staff and coaches with essential anti-doping education and support.
The University of Bath is one of only three higher-education institutions in the UK to be awarded UKAD [UK Anti-Doping] Clean Sport Elite Accreditation, recognising its commitment to promoting a clean sport ethos through its culture, policies and environment.
UKAD's new 2021 Anti-Doping Code is now in effect, as is the 2021 Prohibited List. Visit https://www.ukad.org.uk/athletes/whats-banned-sport-prohibited-list to find out more or click on the images below to download as a PDF.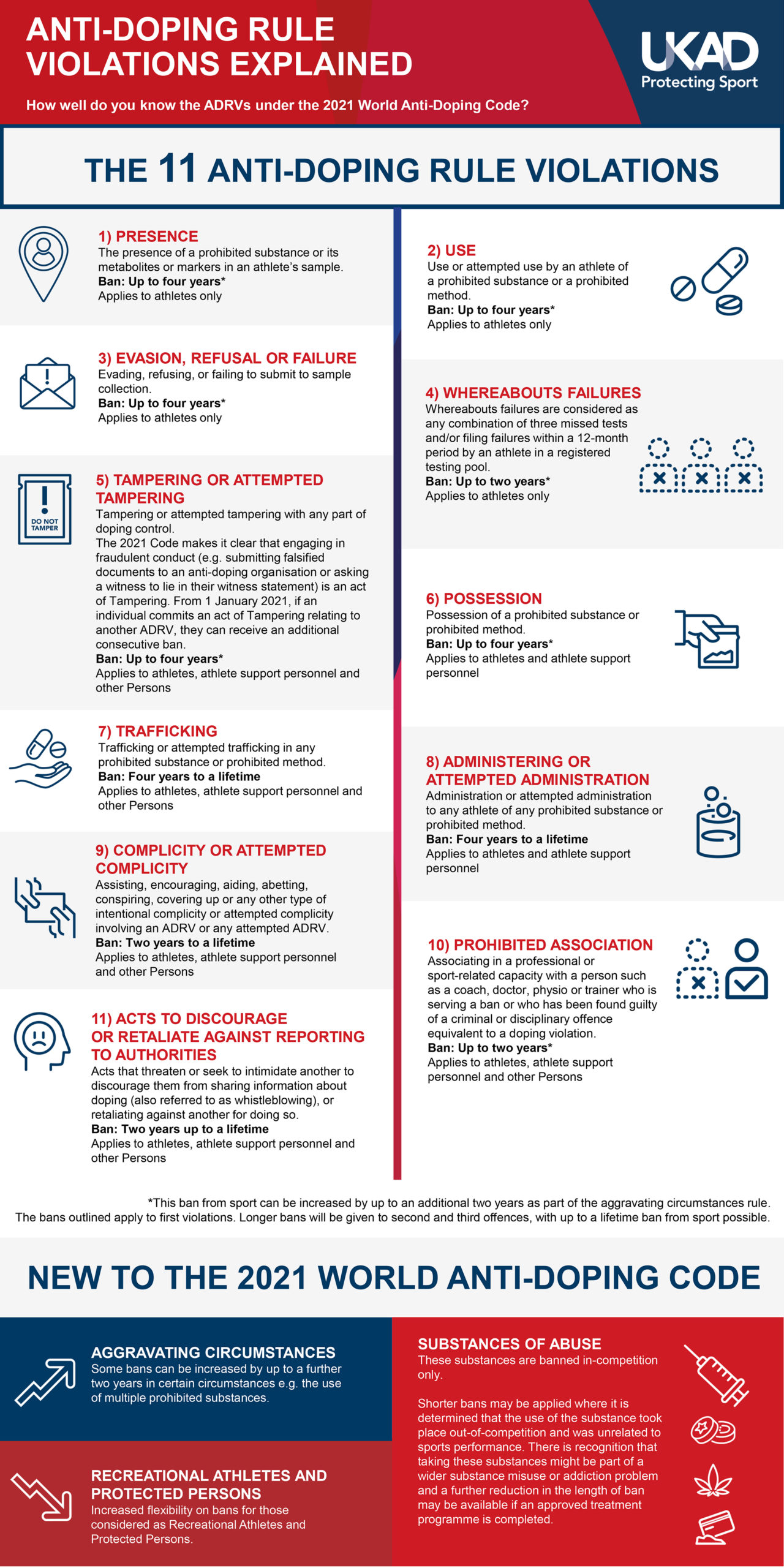 Three of the UK's approved COVID-19 vaccines have been given a 'not prohibited' status – the Pfizer-BioNTech vaccine (searchable as "COVID-19 mRNA Vaccine BNT162b2"), the Oxford-AstraZeneca vaccine (searchable as 'COVID-19 Vaccine AstraZeneca') and the Moderna vaccine (searchable as COVID-19 Vaccine Moderna).
The Global Drug Reference Online (Global DRO) will continue to be updated as vaccines are approved for clinical use within the UK, so athletes and their support personnel are encouraged to keep up-to-date by visiting https://www.globaldro.com.
UKAD's Advisor Course and Coach Clean online training courses have been updated so coaches should be retaking them to ensure they have all the latest information. Visit http://ukad.coachwisehub.com/store to find out more.
Click here to read the University of Bath's clean sport commitment.