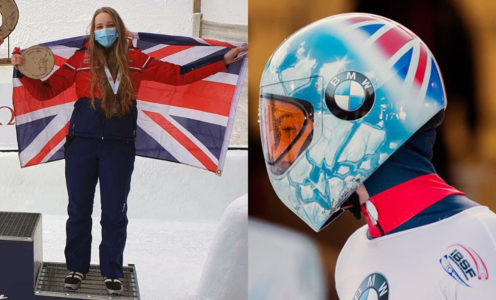 With exactly one year to go to the Beijing 2022 Winter Olympic Games, British Skeleton athletes believe a strong team spirit is putting them on the right track to bring more medals back to their University of Bath training base.
Seven skeleton medals have been won by Bath-based GB sliders during the past five Winter Games dating back to 2002, including bronze for Laura Deas during a historic women's race at PyeongChang 2018 where team-mate Lizzy Yarnold successfully defended her Olympic title.
"I can't believe we're just a year away from another Games," said Deas. "Everyone told me this Olympic cycle would fly by and it has!
"I haven't been focussing too much on Beijing because of the global uncertainty but milestones like this bring home just how close we are to it.
"I feel we are in a really strong position with a year to go and the performances on the World Cup circuit this season show we are moving in the right direction. This year, perhaps more than ever, we have had a really good team ethic and we are seeing the benefits of working collaboratively with some strong results and performances.
"It's quite a rarity to have that team ethic in an individual sport but we are all moving in the same direction and that helps everyone. The coaching team has also been in place for a couple of years now and know how to get the best out of us."
That view is shared by 20-year-old Ashleigh Pittaway, who won the second Junior World Championships medal of her career last month and is bidding to make her Olympic debut when Beijing hosts the Games from February 4-20, 2022.
"The team dynamic has been exceptional this year, we are all working really well together and pushing each other on," said Pittaway. "We recognise it is important to improve as a whole team, not just individually.
"I'm pleased with where I am with a year to Beijing. I am definitely really happy with the improvements I made over the summer, I made some massive leaps forward physically and I was hoping for slightly better results this season because of that but I am in good shape. Now it is a case of figuring out what needs to be put in place to get those results and be in contention for Olympic qualification."
British Skeleton athletes, who utilise the UK's only outdoor push-start track at the Team Bath Sports Training Village as well as the gym and sprint tracks, have enjoyed an impressive 2020-21 season on the international circuit.
As well as Pittaway's Junior World Championships medal, there were also World Cup podium places for Craig Thompson, Matt Weston and Marcus Wyatt plus a host of top-ten finishes. Next up is the World Championships, which take place next week in Altenberg, Germany.
Find out more about skeleton at the University of Bath by visiting teambath.com/skeleton. Visit www.thebbsa.co.uk for more details about the British Bobsleigh & Skeleton Association.