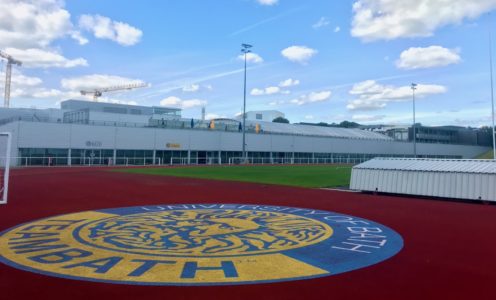 Excitingly, this week's Government roadmap announcement has given us a planning framework within which to restore activity at the Team Bath Sports Training Village (STV) and Founders Hall in the coming months for all of our individual and group customers.
Our plan is to operate within the remaining restrictions at every stage, with everyone's safety in mind. That means we are working through the full details right now for each stage but we can be sure about some elements.
Monday, March 29th
Our outdoor tennis courts will be open and bookable for social play (rule of six applies) and for booked coached sessions. Court and coaching booking details will be made available on this website closer to the time at www.teambath.com/bookonline.
Please note that the Team Bath STV will not be open at this stage so there will be no access to toilets, changing facilities or water supplies on site. A one-way system will operate at the gate into and out from the courts and social distancing protocols will be in place.
Monday, April 12th
Our Team Bath Gym & Fitness Centre will reopen to customers who wish to workout as individuals or in single household groups. "Households" are defined in this case as a group of people living in the same house or flat and/or a student kitchen group.
Customers will be asked to book their sessions via the Team Bath App or website so that we can remain Covid-regulation compliant at all times.
Social distancing, mask-wearing, equipment-cleaning, hand-sanitising and one-way protocols will apply as previously within the Team Bath STV and we will have some changing rooms and lockers open for use but we request all customers arrive changed and ready for activity and only use showers if absolutely necessary.
We will be able to return to group exercise classes from May 17th at the earliest but options remain for customers to workout virtually with our live daily online classes or book outdoor personal training sessions.
Further information
We are also aware that the roadmap permits "organised outdoor sport" from March 29th and "organised indoor sport" for varying groups at different stages. Equally, we know that we can open our indoor pool for individual swimming and organised junior club swimming from April 12th onwards.
However, we also need to understand more details of how sports will return, as each National Governing Body of Sport (NGB) provides their own guidelines, before we can communicate exactly what will be possible and on what date for which customers and groups in which facility area.
As soon as we can, we will add more details to our website and highlight these through social media as well as through further individual communications.
We are as excited as you at the thought that, by the end of June, we can get everything operational again and experience the true buzz of your Team Bath STV and Founders Hall where people of all levels and abilities can have fun working-out, playing sport or just being active with social groups. This pandemic has underlined the value of our physical and mental wellbeing as a nation.
Making contact
Many of our staff are currently on furlough so please bear with us during this time. As always, if you have any queries, please contact us as follows and we will do our best to answer promptly (at least within three working days):