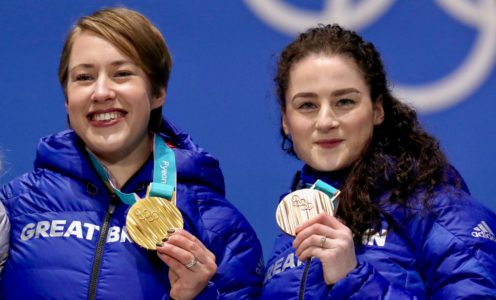 British Skeleton have begun their search for the next Amy Williams or Lizzy Yarnold, with females aged 17-25 encouraged to try out for a new talent identification campaign taking place at the University of Bath this spring and summer.
Project Milano: Girls4Gold is targeted at athletic, ambitious young sportswomen who believe they have the drive and ability to win the Olympic title at the 2026 Winter Games in Italy.
British Skeleton has an outstanding record of Olympic success, with female athletes based at the Team Bath Sports Training Village – home to the UK's only outdoor push-start track – winning medals at every Games dating back to Alex Coomber's bronze in 2002. Shelley Rudman won silver in 2006 before Williams (2010) and Yarnold (2014 and 2018) struck gold, with Laura Deas also claiming bronze three years ago in PyeongChang.
Danny Holdcroft, Head of Talent for the British Skeleton team, said: "We've enjoyed great success in the last five Olympic campaigns, particularly in the women's programme, and we are driven to continue all the way to Milan Cortina. To do that, we are looking for young women with potential to achieve great things, even if they don't realise that yet.
"We are not seeking ready-made stars so we would encourage anyone who has athletic ability, is fast and powerful and has a desire to push their boundaries and experience new things to come forward and believe in themselves. That's exactly what Lizzy and Laura did 12 years ago."
Online applications are now being taken, with successful athletes being invited to the University of Bath for baseline testing later in the spring. The selection process continues through the summer, with the chosen athletes getting their first taste of the sport on ice in early winter. From there on, it's a fast track to international competition and a four-year journey to glory at the next Olympics.
"There will be a lot of young women out there who have maybe enjoyed a certain sport ever since they can remember but now could be the time for a new challenge," Holdcroft added. "There will be others – like Lizzy – who always wanted to win Olympic gold and just needed a new sport they'd maybe never thought of to be able to help make that dream come true."
"Whichever category they fall into, we want to hear from people who are passionate about reaching their potential and are willing to put in the work required to make it to the top."